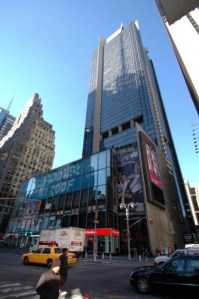 Think twice before you elbow a tourist in Times Square. Rents in the wanna-be hotspot just soared 21 percent, thanks to the city's tourism boom.
Retailers in the area are now paying upward of $1,700 a square foot annually, according to a quarterly report from the Real Estate Board of New York that came out this morning. That's still well behind coveted Fifth Avenue, where average asking rents were $2,367 a square foot, but not too shabby for a neighborhood that was exactly that not too long ago.
But Times Square may soon be giving Fifth Avenue a run for its money. "That's certainly my observation as well," Michael Slattery, a senior vice president at REBNY, told The Observer.
Oakley was recently rumored to pay a record-setting $1,400 a square foot for its flashy store at 1515 Broadway. Leaks about blockbuster deals might be prompting retailers to ask a little bit more, Mr. Slattery said, but it's harder to get a handle on whether retailers are paying anything like that price and what types of concessions might be thrown in.
Yet Times Square may still be a deal as the economy and the tourism industry continue to improve. "It's a good time to jump," Mr. Slattery said. "For a long time, what my people were saying about Times Square is [that leases] should have come out of the advertising budget and not out of the real estate budget," Mr. Slattery said. "Now I'm hearing brokers say retailers expect to make money at these locations."
But Fifth Avenue will not give up without a fight. The strip has been one of the few in the city to see stable rents during the downturn, this despite a few major vacancies. "That's not what people would have expected," Slattery said. "Everyone was so damn depressed a year ago they couldn't see any sunlight."
lkusisto@observer.com