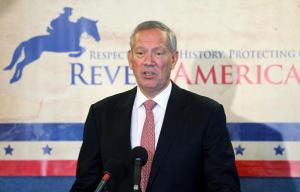 Former Governor George Pataki appeared on ABC's Top Line this afternoon to talk about Tuesday's results, the race for 2012, and why Republicans did so poorly in the statewide races.
"I think we got massacred at the top and it affected the entire vote down the line," Pataki said. "We had our victories, but we should have done a lot better."
Pataki said he did, in fact, cast his ballot for Carl Paladino, in spite of the candidate's combative style–which included calling the former governor a "degenerate idiot."
"Well, he changed his campaign toward the end. And I looked at it from an issue standpoint," said Pataki, who endorsed Paladino at the last minute, in what the former governor said was a vain attempt to spur some support for the top of the ticket.
As for 2012, Pataki refused to rule out a presidential run, saying the last two years showed the need for "experienced leadership."
"What I'm going to be looking at is: Do we have the right people out there?" he said.
When one of the hosts brought up his former tenure as Mayor of Peekskill, Pataki jumped in. "That was a challenging job–Mayor of Peekskill–let me assure you. Twice the size of Wasilla," he noted.
Despite his jab, Pataki said he would "certainly" support Sarah Palin if she was the Republican nominee against President Obama.
"It was hard for me to support Carl Paladino, and I did that," he said.
UPDATE: Here's the video: