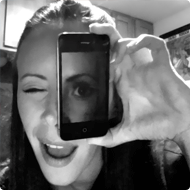 The hot new startup today is Path, a social network that lets users connect with 50 — just 50 — of their closest friends, family and lovers.
Path has all the ingredients for a hot startup. Famous founders: Dave Morin of Facebook and Shawn Fanning of Napster. Famous investors: They don't come any bigger than super-angel Ron Conway. Not satisfied this startup is so hot you MUST PAY ATTENTION? Uber social-media-savvy celebrity Ashton Kutcher is also an investor.
The idea is simple. Social networks have gotten too big and impersonal. For the more intellectually inclined, see the work of British anthropologist Robert Dunbar, who theorizes that our brains limit our meaningful social connections to 150. Depending on your perspective, networks like Facebook disprove, or support, Dunbar's number.
Path isn't a feature-rich social network like Facebook. All you can do is share photos with small captions and location tags. You can then see which one of your connections has viewed the photo. Along with Instagram and PicPlz, Path is part of the trendy new suite of startups focused on photo sharing.
According to Path's blog, "For each moment that you capture and add to your Path, you will see which of your friends have seen the moment in real-time. The idea is that understanding enables trust and storytelling amongst close friends and family. We hope you feel like more of your close friends are seeing life through your eyes than ever before."
To drive the point home, Path has created this sappy video, which really should have been co-branded with De Beers. Diamond's are forever, kids, just like the photos you share online.
bpopper [at] observer.com