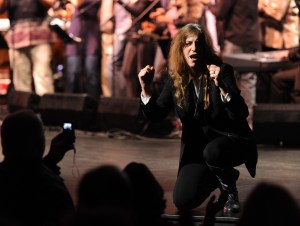 Last night, Patti Smith won the 2010 nonfiction National Book Award for her memoir Just Kids, which tells the story of growing up in New York with the artist Robert Mapplethorpe.
In a surprise pick, Jaimy Gordon won for her Lord of Misrule in the fiction category, distinguishing herself in a group of nominees that included Lionel Shriver, Nicole Krauss, Peter Carey and not Jonathan Franzen.
Host Andy Borowitz brought the yucks. From The Times.
"I said last year that publishing was a sinking ship," Mr. Borowitz said. "I believe that publishing is still very much in the process of sinking. Publishing is a Carnival cruise ship. It's on fire, the toilets don't work, but we are surviving day to day on Pop-Tarts and Spam."
And Tom Wolfe received a lifetime achievement award.