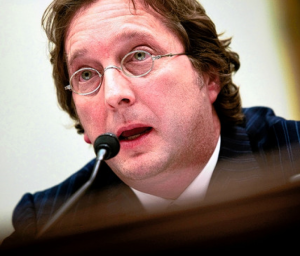 Faced with redemption requests and, reportedly, an SEC investigation, mighty billionaire Phil Falcone has not yet run out of ways to raise capital. Bloomberg reports:
Falcone, 48, is selling stock and bonds through Harbinger Group (HRG), a publicly traded shell company. On Nov. 15, Harbinger Group raised $350 million by selling five-year debt yielding 11 percent. Falcone plans to use the new capital to buy controlling stakes in industries from agriculture to telecommunications, according to a Nov. 1 filing by Harbinger with the SEC. To back the bonds, Harbinger hedge funds plan to give Harbinger Group most of their majority stake in Spectrum Brands (SPB), a publicly traded company whose products include Rayovac batteries and George Foreman grills, in exchange for additional Harbinger Group stock.
Bloomberg goes on to observe that this is not the conventional money-raising method for hedge fund managers, who typically tap institutional investors. Harbinger Group was formerly Zapata, an oil company that had shed its operations. Although one legal expert said that Falcone could meet redemptions using shares of his shell company, a Harbinger spokesman said that's not the game here:
Harbinger spokesman Jeffrey Zelkowitz says the proceeds of the bond sale won't be used to cover redemptions or finance investments in LightSquared. "Rather, HGI is a permanent capital vehicle to house longer-term controlling equity stakes in companies that operate across a diversified set of industries."
Credit Falcone for finding another way to get some cash when a lot of his investors are feeling quite skittish.
mtaylor [at] observer.com | @mbrookstaylor