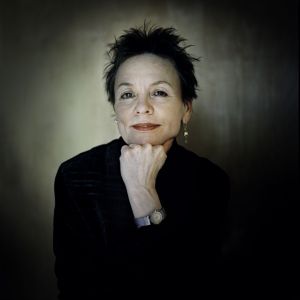 In a 160-year-old synagogue, lit by candlelight, a man's hushed and disembodied voice talks about parents, grief, America. "Some say our empire is passing. As all empires do. And others haven't a clue what time it is, or where it goes, or even where the clock is," the voice intones. But it is not a man–the voice has been electronically altered–and it is not quite talking, either. In the corner, half-hidden behind equipment, candelabras and spikes of hair, a head pops up, with a trademark sly smile. "I tell stories," explained Laurie Anderson.
The performance artist and experimental musician, now 63, has been heralded as an heir to Leonard Cohen (with a synthesizer) since the 1981 release of her mostly spoken-word album Big Science. Her pieces are difficult to describe. Suffice it to to say that she can make a short mystery play scored to Tibetan horns mesmerizing to people to whom that description sounds dreadful. On a recent night on the Lower East Side, a semicircle of about 200 people surrounded the performer in rapt attention. "She's always pushing the envelope, and has been for almost 40 years," said Adele Chatfield-Taylor, a friend of the artist and president of the American Academy in Rome, where Ms. Anderson studied and is now a trustee. Angel Orensanz, the artist, philanthropist and proprietor of the performance space, said, "I've been watching her 20 years … she never ages. Her personality is one of permanent innovation."
'I'm surprised at how few artists look at things politically. We seem to be stuck forever in this endless love song.'
Ms. Anderson's performance was at Mr. Orensanz's Foundation on Norfolk Street, in honor of the American Academy. It was her last in the United States this year, save one on Nov. 19. The Observer spoke to her afterward about how things have changed in the years she's been performing–in America, the music industry and her own life.
She started the interview off reflecting on where she would move if she were starting out now: "If I were a young artist now, I would not come to New York. I would go to Rome, I would go to Berlin and London. In a way, there are lots of other places that rival and surpass New York as art centers."
How did that happen?
It has a lot to do with real estate … and voodoo, when things change. It's a tougher time for artists who need space. Squeezed out of New York, squeezed out of Brooklyn, squeezed out of New Jersey, where do you go? You have to recognize that you are on a cultural urban circuit that doesn't have to much to do with countries anymore.
But you talk a lot about America in your work.
[My work has been] focusing on what work means to Americans. My main difficulties with living here is stress level. People are frantically, frantically on their laptops. The race to keep up technologically and stylistically is exhausting people.
It's exhausting you?
How many emails can you answer before you ask, "Is this going to be the rest of my life?"
That's funny, because you were using technology in your art or performances long before others. You can even get a "Let X = X" [a track from Big Science] ringtone on your cell phone. I never thought of myself as a multimedia artist; it's like calling an artist a pen artist.
I tell stories. What I'm using to tell the stories I tell is what's around right now.
You've been doing this 30, 40 years. What's surprised you about what's happened in art and performance in that time?
I'm surprised at how few artists look at things politically. We seem to be stuck forever in this endless love song. This is an amazing thing. Why do artists seem to be living in a bubble? Why is that? What happened?
What do you think happened?
Artists are caught up in the myth that they need to get more stuff: the new laptop, the new car, the new Jeep that will make your life worthwhile.
So, that isn't what would make your life worthwhile? What do you wish for?
I wish I could get lost, that I wasn't so busy, that I didn't have so many obligations, no phone calls. My favorite book now is by Tom Hodgkinson–How to Be Idle. Its second question is, "Who told you you had to work to be a good person–and why did you swallow that?"
You travel all around the world. Did the way Americans are treated change in recent years?
Oh, yes. People project a lot onto Americans; we get more than our share of that. If things are really going well, it really is kind of a dream world we live in, with a lot of opportunity, glamour and freedom. The number of people who fall in love with the American myth is still high. But when we trip up, there's a lot of disenchantment when we fail.
Have we failed?
America is this amazing security blanket. But I feel a lot less freedom in this country than a few years ago.
Which brings us to the album you released this year, your first studio album in nine years, Homeland. It arose, in part, out of 9/11 and its aftermath [with references to bombings, cages and the military].
It is as much a personal record as it is political, although it started the other way around. In the middle came Obama, and I said I didn't have to grind this ax forever.
About the same time, you did Delusion, which premiered in the U.S. at BAM. Did anything surprise you about putting it together?
The surprise was in the making of it. How do you improvise and turn it into something that doesn't feel improvised? I had 10,000 of these little files [of ideas]. It was a very lonely, very weird process.
You've been with Lou Reed for what seems like forever. Any tips for staying together?
Take a break from each other. We've been together for 19 years, married for two years. I think everything is about to blow away, and everyone is about to blow away, and it makes me care for them more.
Your year in performance is winding down. What's next?
On Nov. 19, I'm doing an Art for Animals Benefit in Hudson, N.Y. There's going to be a lot of animal stories. My dog is going to play piano.