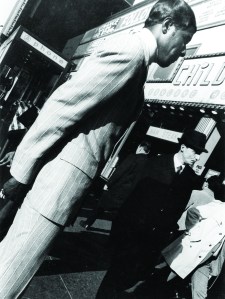 See the work of renowned street photographer Leon Levinstein in a collection of his work, "Living in the Edge" at Howard Greenberg Gallery (41 E. 57th St., through Dec. 4). Levinstein, who studied the craft with Lisette Model and Alexey Brodovitch, is best known for his raw manner of photographing his subjects, sometimes cropping out legs, arms or heads.
Anton Corbijn at the Stellan Holm Gallery depicts greats such as Alexander McQueen and Kate Moss (through Dec. 15).
"Hide: Skin As Material and Metaphor" explores the many uses of skin (Museum of the American Indian).
Catch Jim Campbell's light installation in Madison Square Park (through Feb. 28).