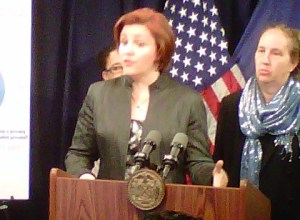 City Council Speaker Christine Quinn said that the Board of Elections needed to come under the oversight of the mayor's office after conducting another election riddled with errors and incompetence.
"The Board of Elections should stop hiding, begin evaluating and become part of the Mayor's management," Quinn said at a morning news conference in which she and representatives from good government groups revealed results of a survey that showed widespread voter confusion on election day.
The Board of Elections is a state agency, and as such, is not under the legislative authority of the Mayor or the City Council. Quinn admitted the only way to acheive change in the Board is for it to be voluntary.
The Board was widely criticized after the Sept. 14 primary election because many polling stations in the city opened late and there were significant technical problems with voting machines.
Quinn said that when the Board testified at the City Council's Primary Day oversight hearing, the Board representatives were "inept, quite frankly," and had no hard data from previous elections.
"This is something the Board should already be doing," she said. "It is necessary to continually evaluate yourself during an after every election."
Because the survey's results came from voter's online responses, 311 complaints, and the work of volunteers who questioned voters outside of polling stations, the only cost of the survey was the subscription fee for a third-party survey service, totaling $40.
"This is not a budget-busting exercise," Quinn said.
The format of the ballot was one of the biggest problems reported, with over a third of respondents found the ballot difficult to read or confusing, citing the small font and tight spacing of all candidates on one side of the sheet. Respondents also complained that poll attendants did not offer privacy sleeves (22.2%) or Ballot Marking Devices (26.8%), and were not able to assist voters (23.8%).