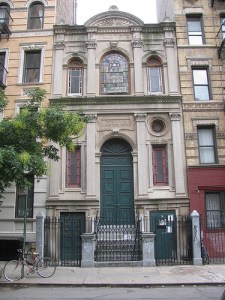 New Yorkers are devoted to our historic churches, synagogues and mosques, even though we don't much like going inside of them.
So it's not surprising then that when a rabbi says he wants a condo plunked on top of his 100-year-old synagogue to save it from bankruptcy, he finds himself doing battle with neighborhood preservationists.
Rabbi Pesach Ackerman, 81, looks out on an empty sanctuary most Saturday mornings at the Anshei Meseritz synagogue. But what a beautiful, historical sanctuary it is. That's why he's decided that instead of letting his congregation die and the synagogue potentially be demolished, that they should let a developer come in and build a condo on top of it.
The synagogue plainly needs the cash, but the Greenwich Village Society for Historic Preservation wants it designated a landmark. Here's the rabbi's blunt response to that:
I don't want landmark status – and neither does my board or most of my congregation … If it doesn't grow, then you won't have people praying here anymore. It'll die out and all you'll have is tour buses pulling up to the front door looking at the architecture.
In 2008, the synagogue's board voted in favor of a similar proposal to demolish the historic building and allow the Kushner Companies (Jared Kushner, a principal in the company, publishes The New York Observer) to erect a new two-floor synagogue on the ground floors. There's no mention of what happened to that particular plan.
We've paved plenty of religious paradises around the city, including "synagondo" on the Lower East Side.
And then there is the opposite case, of West Park Presbyterian Church on the Upper West Side, where the congregation fought vociferiously against landmarking and in favor of a condo tower only to lose the fight at Landmarks. The church is now in talks with a school to take space in the building to keep it afloat, though this, too, would require the commission's approval.
Ugly things have been done in the name of preservation before. Allowing a religious institution to die out definitely seems like one of them. How, exactly, do we preserve a synagogue while driving out its congregation? Do we really need another glorified events space/art gallery/speakeasy?
lkusisto@observer.com