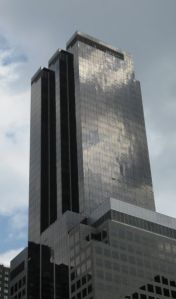 Random House is seeking subletters for a significant portion of its 1745 Broadway office space, The Wall Street Journal reports today.
The company apparently has a 30 percent vacancy rate on its floors in the building and is looking to rent around 250,000 square feet, which is roughly equivalent to that percentage of their total floor space. They're asking $55 per square foot, the current going rate for the neighborhood. Another draw: any new tenant would have Sean "Diddy" Combs as a neighbor — he lives in the building's residential portion.
The building was completed in 2003 and since that time Random House has gone from owning it to renting through a long-term lease.
One might be inclined to make noises about the death of publishing, but Random House has actually had a great year with the Dragon Tattoo books and the upcoming Decision Points. They did undergo layoffs earlier in the economic downturn, but it seems as though this proposed rental agreement is more about adjusting for the new normal, and a smaller staff.