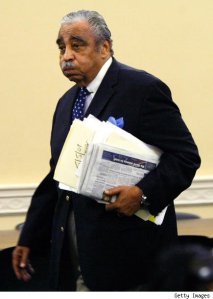 A House Ethics panel has found Harlem congressman Charlie Rangel guilty of 11 of the 12 charges he faced, The Daily News reports. The Harlem Democrat initially faced 13 charges of ethics violations, but the panel decided to combine two of the charges.
Rangel was acquited of one count of "bringing discredit on the House of Representatives," though was found guilty on all others. The other charges included failure to report proper tax filings, using congressional letterhead to solicit donations for a library named in his honor, and using a rent-stabilized apartment for campaign purposes.
Rangel left the hearing yesterday, saying that he did not have time to secure a legal team because he had run out of funds. The committee continued the hearing without him and returned just before noon today with their verdict.
"This has been a difficult assignment," committee chair Rep. Zoe Lofgren (D-Calif.) said. "We have tried to act with fairness, led only by the facts and the law, and I believe we have accomplished that mission."
The case now goes to the full House Committee on Ethics to decide on a punishment. Experts expect the Congressman to only face a letter of reprimand or censure, both of which are seen as the lighter of the possible punishments, which could theoretically go so far as expulsion from Congress.
Will have more on the story as it develops.