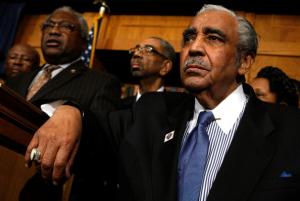 Congressman Charles Rangel is not pleased about the House leadership fight between aspiring whips Steny Hoyer and James Clyburn.
Rangel declined to say whether he would support Clyburn–a longtime colleague, and fellow member of the Congressional Black Caucus–if the struggle came to a vote.
"It's not going to come to a vote. We can't afford a vote," Rangel said.
"I want to be convinced that the leadership knows this has to be resolved without the polarization that naturally would take place coming from two people, coming from different parts of our diverse caucus," he said.
With Democrats heading back to the minority, the party has one less leadership position (Speaker of the House) than they did in this Congress, and no one wants to leave. One rung beneath the whip battle, Connecticut Congressman John Larson has already stated he intends to remain caucus chairman.
Rangel said he knew "as a fact" that the leadership was meeting frequently to resolve the messy situation.
"But everybody's campaigning, including Larson. I should have no reason to believe why he shouldn't campaign, but he just makes it abundantly clear he's running for chairman of the caucus, in case there's any downward slide," Rangel said.
"To me it's like musical chairs, where they just move the damn chair away. If I had my druthers, I'd just put another chair up there. What the hell?"
(Republicans did just that yesterday, creating a new position for a freshman leader, which will be chosen by its new members.)
Asked whether he supports Speaker Nancy Pelosi in her bid for minority leader, Rangel said: "No question about it. There's no question about it."
While defeated Democrats have publicly grumbled about bringing back the unpopular leader–whose image took a $65 million dollar hit this cycle–Rangel did not think the Speaker, or the caucus, had anything to apologize for.
"I guess the biggest point the Republicans make is that we haven't learned our lesson. If they want to say that, I can't argue with them. Because in terms of national defense, in terms of technology, education, health care, we may have lost one of the battles, but for our nation, we can't lose the cause. If you're talking about education, technology and trade, you're talking about the survival of our republic.
"So, the dust hasn't settled, neither has the emotions. And that's within our parties–teabaggers, conservative Republicans, progressives, and what's left of the Blue Dogs."