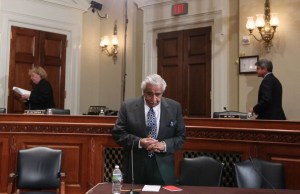 Yesterday, as Charles Rangel made one final plea for sympathy before the House Ethics Committee, he asked one very specific request.
"I just hope no matter what you decide in the sanctions, I hope that you put in that report that Charles Rangel never sought any personal gain," said Rangel, who choked up as he spoke.
The committee did not heed his plea for sympathy–recommending the body's first censure since 1983–but it did grant his request regarding the report.
"Although prior committee precedent for recommendation of censure involved many cases of direct financial gain, this Commitee's recommendation for censure is based on the cumulative nature of the violations and not any direct personal financial gain," reads the official report.
That may come as small consolation, as the proud congressman faces the embarrassing prospect of standing before the House in the chamber's well for a public rebuke.
Here's the committee's report: