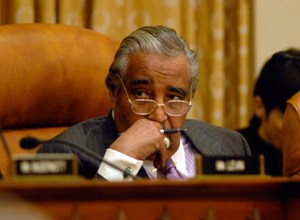 Charlie Rangel is slated to go before the House Ethics Committee on Monday, even though the congressman and his attorneys have parted ways.
Rangel has indicated before that he will represent himself at the hearing.
According to report earlier this week on Fox, the trial could take up several days next week, even though the lame-duck Congress should have its hands full with leadership elections and must decide whether or not to let the Bush-era tax cuts expire.
Rangel is accused of 13 Congressional ethics violations, including the use of House stationery to solicit funds for a public policy center at the City University of New York and keeping an apartment illegally as a campaign office. He has maintained his innocence and has refused to discuss making any kind of deal with the committee.
The committee is looking to conclude the hearings before the new Congress is sworn in next year.