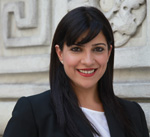 Failed congressional candidate Reshma Saujani has sent an email out to her list inviting them to a "Debt Relief Party" at Glass Bar in Manhattan on December 14.
From the missive:
Reshma ran a historic race. She showed the political courage to challenge an 18-year incumbent and demand better leadership, she engaged the South Asian community in the political process in unprecedented ways, and she built grassroots support around bold new ideas.

But Reshma put everything she had into this campaign and is now burdened by debt.
What the email doesn't mention is that Saujani was also a fundraising powerhouse, tapping into the financial services and hedge fund donors to the tune of $1.5 million. But she loaned herself $30,000 and that's what this evening seems to hope to pay-off. Ticket prices for the evening range from $50-$500.
The email also details what Saujani has been up to since losing the September primary–she has been blogging for WNYC and introduced the first Sikh to run for the city council in a special election in Queens.
During the campaign, Saujani said that she was planning to run again in 2012 if she lost, and this fundraiser could be the first step on that journey.
Full email below:
Save the Date! On Tuesday, December 14th, we will be joining together to celebrate the accomplishments of Reshma's campaign and help relieve the debt from the race.

Since we wrapped up our campaign in September, Reshma has gone on to do some exciting things. From introducing a South Asian city council candidate to writing a blog for WNYC, Reshma is proving to be a strong and lasting voice in politics.

Reshma ran a historic race. She showed the political courage to challenge an 18-year incumbent and demand better leadership, she engaged the South Asian community in the political process in unprecedented ways, and she built grassroots support around bold new ideas.

But Reshma put everything she had into this campaign and is now burdened by debt.

We are hosting a Debt Relief Party on Tuesday, December 14th at 7:00pm at the Glass Bar in Manhattan. We hope you can join us and celebrate all the work each of us put into this historic race. Click here to RSVP! If you cannot attend and still want to help, you can make a donation today — so that tomorrow we can enter into the next phase with Reshma.

The overwhelming loyalty, dedication, and generosity of our supporters enabled us to run a race we are proud of, and with your help now we can relieve our campaign debt and begin the next chapter together.

Sincerely,

Annie Mullaly Weir
Finance Director