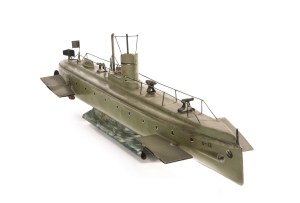 More than most little boys, apparently, Malcolm Forbes liked playing with toy boats. What began as childhood joy over souvenirs of his father's travels turned into a lifelong passion. Forbes, publisher of the magazine of the same name, went on to own the Highlander, a 151-foot-long yacht with 14 bathrooms, plus hundreds of toy yachts, sailboats, submarines and cruise liners.
In 1982, Mr. Forbes told The New York Times that he began collecting toys on a whim at a New York auction, raising his hand to bid $20 for a grouping of tiny soldiers. "Up went my hand, and it's not been often or long lowered since," he said.
His collection of toy boats, along with thousands of miniature motorcycles and soldiers and vintage board games, has been on view for the past 25 years at 60 Fifth Avenue, headquarters of the magazine. But earlier this year, the building was sold to New York University. The museum closed last week, and the collection goes on the block at Sotheby's Dec. 17. It is estimated to bring $3 million to $5 million in total, but some antique toys are grouped in lots that start as low as $1,000. A suite of six sailboats dating to the late 19th and early 20th centuries, for example, is priced with suggested bids starting at $2,000.
Among the highlights of the sale is a 37-inch-long replica of the Cunard Line's Lusitania ocean liner, sunk by a German torpedo in 1915, an attack that hastened America's entry into World War I. Forbes paid $28,600 for it in 1983. Now it's estimated to bring $100,000 to $200,000. (The Forbes collection also includes a model of a 1915 U-boat similar to the one that sank the Lusitania, for $4,500 to $6,500.)
Robert Forbes, in a statement, said "my brothers and I concluded it was best that others now have a chance to own [these boats], collect them, and maybe even wind them up on a pond or pool and watch them go."