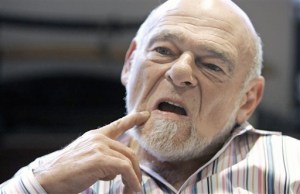 Sam Zell, owner of the Tribune Co., said yesterday that he plans to exit the company once it emerges from bankruptcy.
The announcement, made last night during an interview with CNBC, is not exactly a surprise. In the last two months, a series of scandals have led to the departures of chief innovation officer Lee Abrams, CEO Randy Michaels and a much-hated six-legged statue, Bureaucratic Shuffle, that makes for a pretty apt mirror for all this mess.
"I don't think that I envision that I am going to have any kind of a role going forward and so, as soon as we get it out of bankruptcy, I will wish whoever takes over a lot of good luck and they should enjoy being in the media business more than I did," Zell said on CNBC last night. "When we're done with the bankruptcy process, I will turn it over to whoever the creditors decide they want to run it and wish them a lot of good luck."
Tribune Co. filed for Chapter 11 in 2008.