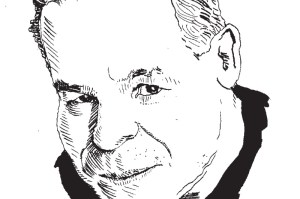 This is curious: a selection of Saul Bellow's letters is published, and instead of making them the occasion to write about Bellow the man, reviewers use them to reflect on Bellow the exemplar of serious literary culture.
He is a great describer, a whiz with metaphor, a humanist, a life-affirmer, a practitioner of philosophical laughter. The tired, decades-old celebration of Bellow as a writer who mixed racy idioms with high-flown rhetoric is wheeled out once again and dressed up in pretty, self-regarding phrases. But the reverence seems staged. You get the feeling that at the heart of it is a lack of true feeling for the man and for the writer. Maybe a lack of true feeling, period.
Bellow himself would have guffawed, unphilosophically, at such Great Books gravitas. He would have called it "low seriousness," a term he coins in two of his letters. Low seriousness, Bellow explains, is "my new favorite description of the 'earnestness' of deep readers. What makes people so sober?"
Bellow's laughter ripples through these letters, and it is anything but philosophical. It is the more explicit overflow of the laughter in his novels. The communion between the individual and his animal power is Bellow's theme, and the source of Bellow's comic spirit. Or as he writes to a friend when he is in his early 20s: "Well, enough woe. There are still beauty, fucking, little children and friendships in this world."
As the decades wore on, Bellow seemed less and less able to savor those qualities. The beauty of the world begins to wear thin: "… images or representations this side of the mirror have indeed tired us out," he writes in a letter from 1975, characteristically universalizing his own ennui into a cultural condition. "Little children," in the form of the three sons he has had with three different wives, vex him. He complains that "one [son] will keep me going yet, for a long time. I will be seventy when Daniel gets out of college. Something had better be done to rescue me."
In that respect, Bellow came to his own rescue. His pattern was to have a son and then flee the marriage, or destroy it, while the boy was still a young child. "I make my own obstacles but jump 'em meself," he boasts at one point. As for his friendships: "Flee some, lose others, and that's the story," he writes in 1968, when he is 53.
What was left was the fucking. Bellow's laughter, the Archimedean point of comedy from which he notated the human condition, was borne aloft by sex. The artist making respectable public gestures atop a satyr's hidden hindparts is an old story.
"All my ladies are furious," Bellow writes about his various lovers back in Chicago to one of his pals from Bellagio in 1968. "Not one of them has written, not even Bette. She must have done research in my apartment and found sinful evidence." He goes on to lament the conduct of one of his ex-wives and then concludes: "If Barnum were alive, he and I could make a really great show of this. The great men are gone though, we have nothing but punks." A few months later, he writes to a friend that one of his "ladies" is leaving him, probably for someone else, and sanctimoniously exclaims, "Lord knows that sort of conduct." "This is what intimacies are made of," he harrumphs. A guilt-wielding Jewish father's tone of self-pity mixed with stern reprimand runs through the letters.
I cherish Bellow's work. He made his wisdom plastic; his sentences express a particular datum about existence at the very same instant that they make a universal statement about existence. His gift had Shakespearean dimensions. Until reading these letters, though, I had never realized how self-reflecting Bellow's laughter could be. As Bellow puts it: "I bump along among unfinished works, promises unkept, things undone, lawsuits without end and the rest of the weak comic furniture of Life." Heaven help you if you happened to be a stick of Bellow's furniture.
But the joke was sometimes on him. Bellow's masochism was pronounced. In his early 30s, he writes with excitement about a "novelette" he is working on: "It's about the amor fati, the vein of enjoyment that runs through our deepest suffering." Throughout the letters, he courts afflictions of various sorts. After he finds out that his second wife, Sondra, has been sleeping with one of his friends, Jack Ludwig, he describes Ludwig with some type of perverse arousal. About Ludwig's review of Herzog–in which Ludwig was comically caricatured–Bellow writes that it was "ingenious, shrewd, supersubtle, shamanistic, Rasputin-like." That is too much, even for the feigned generosity of embittered pride.
Bellow became aware, early on, of the fragmented nature of his existence. As a young man he turned his solipsism into an artistic program, typically expressing his nature as a cultural tendency. "Most good writing in this century is of the cognitive type," he writes when he is almost 29. "Instead of a typical drama of man, you have millions of disparate tendencies much easier to discuss than to represent or dramatize." Twenty-four years later: "I'm not awfully well. I have no acute difficulties, only a slight feeling of non-function and dissolution [i.e. "disparate tendencies"]. And there are moments when I am handed a snapshot or pass a mirror and realize that … my self is about twenty years behind the real object." What is striking about so many of these fascinating letters is their carefully constructed public tone, present long before he becomes famous. Bellow always had one eye on the mirror.
The mirror reflected in two directions. Generalizing ugly, unwanted traits in himself outward and away was a trick Bellow indulged in all his life. "The great men are gone though, we have nothing but punks." He so famously hated the counterculture of the '60s perhaps because his life embodied the hedonism, nonfunction and dissolution of the '60s. The young Bellow who "deplores" about a friend his "succession of [lovers]"–"perhaps if he had one or two only to show for his entire life I would feel more charitable towards him"–is excoriating what delights him. The older Bellow who admonishes a prominent critic that "things are now what they always were, and to be disappointed in them is extremely shallow" spent much of his life brilliantly and sometimes ungenerously being disappointed in things as they are now. Bellow, the defender of civilized values, was also a rank hedonist, frequently disaffiliated from other people. In his letters, he often uses the word "love" like a quick and easy Hail Mary. His betrayals and abandonments he celebrates as "freedom."
Possessing the elemental viscera of a genius, Bellow was well aware of his forked nature, and of his delusions. "Why should people, like me, who have won so much freedom, or had it handed to them, feel themselves in jail?" he asks one of his ladies. Referring to his art, he writes in 1969 that "it's the metier that keeps me sane, bless it." When he writes about Marilyn Monroe, whom he had briefly met through Arthur Miller, that "she was connected with a very powerful current but she couldn't disconnect herself from it," he knew whereof he spoke. In many ways, he himself had the majestic, fatal isolation of a beautiful woman.
Bellow a philosophical humanist? His comical mortal clay was two steps behind, and two steps ahead, of philosophy.
lsiegel@observer.com