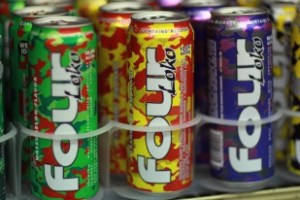 Four Loko is an intensely saccharine beverage so throat-gagging it shields the drink's comically high amounts of alcohol and caffeine. The latest in blown-up crazes that afflict and doom our nation's youth, Four Loko has been taste-tested, debated, banned, chugged, scorned — and, as the attention increases, sold by the truckload.
But while anyone over 5'5″ with some chin stubble can purchase the super-sized malt beverage at a local bodega, you'd be hard-pressed to find it at a bar. And now, the one man insane enough to host an all-you-can-drink Four Loko night has been strong-armed into canceling it, the New York Daily News reports.
Meet Eddie Huang, proprietor of Xiao Ye on the Lower East Side. Last month, New York Times food critic Sam Sifton dropped by the tiny Orchard Street restaurant to grab a bite. In his zero-star review, Sifton scowled and wagged his finger at the hip-hop-addled, late-night, faux-edgy nonsense that had cannabalized the quality of the food at Xiao Ye, but he did allow the text-happy chef's haunt one concession: "It's is really only best when the customers are a little drunk, a little high, maybe both and in any event extremely hungry."
Perhaps Huang took this advice to heart! This Thursday, the man had arranged for a drink special aimed squarely at seizing upon the Four Loko zeitgeist: $15 would let you drink unlimited amounts of the stuff. And if the 12 percent alcohol level isn't high enough, have no fear — Huang would be mixing it with Hennessey cognac as well.
Huang spearheaded the event to advocate for the beloved beverage after the New York State Liquor Authority threatened to push for its ban — Four Loko mania has taken hold among the youth, and several college campuses have banned the stuff. Then, when the Daily News informed him his planned booze-fest violated a state law regarding all-you-can-drink specials, the entire thing was canceled.
"Now I gotta figure out how to give people enough Four Loko so they can get their blackout," Huang told the Daily News. "People like to black out."
Huang is undeterred — he tweeted just minutes ago from his @GeneralLoko Twitter handle that Thursday's Four Loko night will actually happen, albeit without the open bar. "For the record, Four Loko Thursday is still goin down. SLA won't allow all-u-can-drank so its now $3 a can of four loko 6 to 11pm," he said.
The chef's adversary in his quest to liquor up his clientele is William Crowley, spokesperson for the SLA.
"The chef should consider staying in the kitchen and away from the bar unless he's looking to lose his liquor license," Crowley said.
With such threats directed at Xiao Ye and its owner, Four Loko lovers should get down to Orchard and Houston soon to see if the spot is still serving up the fruit-flavored hooch. Sifton said diners might come to "Your boy Eddie's basement" for the "Hova on the stereo" — but they'll stay for the free-flowing Four Loko.