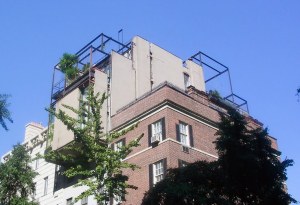 The paparazzi had its cameras squarely trained on Robert De Niro today, as the Landmarks Preservation Commission unanimously approved his penthouse atop the Greenwich Hotel. But he was not the only star to appear at 1 Centre Street today–not even the most famous one, at least not to the architecture geeks–as the commission also voted unanimously in favor of naming Paul Rudolph's 23 Beekman Place the city's latest landmark.
The three-story penthouse atop a four-story 1860 townhouse was Rudolph's home for almost five decades, beginning in 1961. It was the place where he experimented with and refined his ideas about architecture and it's been a marvel to the generations that followed him.
"He's the reason I became an architect, making today a very special day," commissioner Fred Bland said during a hearing this morning. Mr. Bland mentioned that, fate being cruel, the year he arrived at Yale to begin his architecture training, Rudolph had just left. Moments later, commissioner Margery Perlmutter remarked that she almost quit architecture because Rudolph had been a guest critic during one of her studios at Columbia and was merciless in his appraisal of her work.
Yet Rudolph's impact on the profession has been so wide and so profound that in preserving this unusual townhouse the commission is not only honoring the city's built history, but also the world's. Given that Rudolph's signature interior was renovated in the middle of last decade, protecting what remains of the building was essential. (The penthouse is actually a rental, popping up now and again for about $20,000 per month.)
"There are so few Paul Rudolph Buildings left," Bland told The Observer after the vote. "They're falling right and left across the country, due to destruction, disuse, and neglect. It's a rare moment to save a place so personal, his experimental place."
The commissioners actually ruminated on whether they would have approved such an experimental project were it proposed today. That question was left open, but if 980 Madison or 837 Washington are any indication, they are certainly leaning in a liberal, or at least more expansive, direction. Commission chair Robert Tierney told The Observer he's inclined to think so. "It's interesting, as we get a bigger inventory of landmarks, you can pick and choose from all kinds of genres," Tierney said. The result is a broader and deeper definition of what it is to be a New York City landmark.
And yet there remains a certain alienness to a building like 23 Beekman. In a way, it is an oxymoron, a cancer atop a truly "historic building." The very idea of a modern landmark is itself a contradiction in terms because modernism sought to wipe away history. Consider Robert Moses, Le Corbusier, even Rudolph, all trying to eradicate history, to defeat nature, end poverty and blight, addressing all of the world's ills through their work.
Where better to recognize this tension than a building with such a clearly split personality?
And yet all of that Utopian zeal failed as much as it succeeded, so much so that many of the buildings it left behind are now unloved, even hated. This makes modernist preservation all the more essential and immediate. Not only have these buildings-beyond-time themselves aged (some quite severely), but they have become examples of architectural idealism, experimentation, and failure. Thus they are something to be saved, even as they sought to wipe out their forebears.
As Ada Louis Huxtable recently wrote in The Journal, regarding the defacement of the old Manufacturers Hanover Trust Building on Park Avenue:
The concern here is for the precedent-setting modernism perfected in New York in the mid-20th century. It set the standard for corporate and commercial construction world-wide and is increasingly recognized as a major American contribution to the architecture of our time.
Fortunately, for the city and for architecture, the Landmarks Preservation Commission appears up to the task (even if it did fumble in the case of Mani Hani and a few others).
"The word icon is often overused," Tierney told The Observer. "This is a modern icon in every sense of the word. Rudolph designed it, he lived here, his spirit lives here, and that is rare to find in New York or anywhere. It's really great to have saved it." And now onward to the next one.