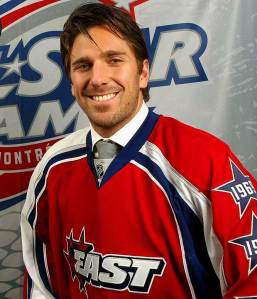 New York Ranger Henrik Lundqvist has capped off his 30-game winning streak with yet another victory, selling his luxury bachelor pad for a respectable $1.68 million.
Mr. Lundqvist bought the 20th-floor duplex in The Bromley at 225 West 83rd Street in 2006 for $1.75 million, which is exactly what he listed it for in the spring with the Modlin Group's Adam Modlin. Not bad considering the spring we had. The place was listed Feb. 2, and an offer was made just a couple of weeks later, on Feb. 23, according to the buyers' broker, Anna Kahn of Halstead. They hit a slight glitch signing the contract as Mr. Lundqvist was tied up thwarting pucks from fiesty Canadians in the Olympic finals.
The buyers are Philip and Amy Cushmaro, who live in New Jersey but were looking for a pied-a-terre. Mr. Cushmaro worked for many years as the head of IT for Credit Suisse First Boston. The best feature of all might be a one-way mirror in the bathroom, offering sunset views without the exposure.
The 1,300-square-foot duplex was, many said, just big enough for the burly Swede. So when Mr. Lundqvist then dropped $3.97 million in 2008 on a three-bedroom duplex penthouse at 310 West 52nd Street, it fueled speculation he would finally wed long-time squeeze Therese Andersson. Now with his old place finally off the market, the question remains, is Mr. Lundqvist as well?
lkusisto@observer.com