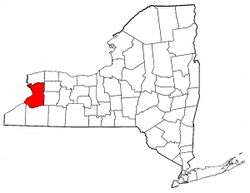 Carl Paladino advocated putting welfare recipients in unused prisons so that they could learn hygiene, opposed what he termed "the homosexual agenda," and pledged to de-fund reproductive health organizations.
Eric Schneiderman ran as an unapologetic progressive activist, who had the president of NARAL Pro-Choice New York introduce him the night he won the Democratic primary, and made "social justice" a cornerstone of his campaign.
But a sizeable number of people in Erie County seemed to support both the local developer and the Upper West Side state Senator. Erie, where Paladino's hometown of Buffalo sits, came out big for the local guy, delivering nearly 150,000 votes, or close to 10 percent of his totals for the night. And Paladino won the county by nearly 20 points.
Schneiderman meanwhile eked out a narrow victory there, beating Dan Donovan by 600 votes, getting 116,999 votes to Donovon's 116,309.
Schneiderman did have more money than Donovan and so was on the air in Erie a lot more than Donovan. And he campaigned there fairly hard in both the primary and the general, especially around Buffalo. But still, somehow he was able to stand up to the Republican tide there, one that delivered the county for comptroller candidate Harry Wilson and even swept state Senator Antoine Thompson out of office, in a race that was on very few people's radar.