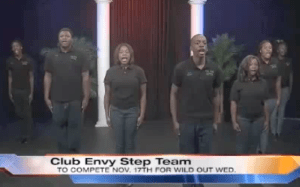 Club Envy, we don't envy you a bit.
The Jacksonville, Florida, step dance troupe caused a major terror scare the other day when they ditched their van in traffic and began sprinting through the Lincoln Tunnel to make it to a talent show on BET's "106 & Park," which is—shhh!—actually filmed on West 57th.
It didn't help that they were wearing camo.
The Joint Terrorism Task Force surrounded them, weapons drawn. Tears were shed, lessons learned. Needless to say they missed the gig.
So are they any good? Yes, enviably so! A few days before their trip, they appeared on Jacksonville's News 4, performing a short routine and trying to raise money for their ill-fated trip. They are adorable—and not only that, they are disciplined (except that kid on the left).
Watch how they stand at attention for 20 excruciating seconds while the news team somehow fails to say a word or go to commercial. Somebody should really give these youngsters another chance. We smell a very special "Glee" episode in the making.