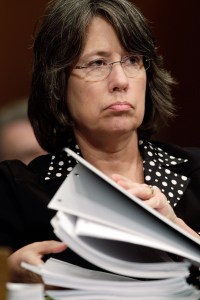 America's banks should get ready for a new sherrif to come to town. Federal Deposit Insurance Corp. head Sheila Bair should be hanging up her bank-regulating spurs come 2011.
So reports TheStreet.com:
"I'm going to serve out my term," Bair, chairman of the Federal Deposit Insurance Corp., said at an industry conference. "I do not want to be reappointed."
Bair, who's known by some as one of the tougher banking-sector regulators, also said that the new Financial Stability Oversight Council would have benefited from an independent director, instead of chairmanship by the Treasury. The FSOC is a financial-regulatory supergroup created under the Dodd-Frank financial reform law. Bair also said that the bubble and crisis has taken a toll. That's understandable; 143 banks have failed in 2010 — more than in 2009, which wasn't exactly a banner year for the banking sector.
mtaylor [at] observer.com | @mbrookstaylor