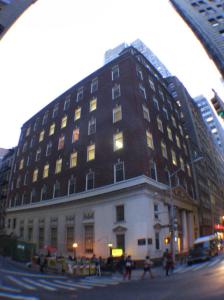 Sierra Realty has hung a for-lease sign out for 40,000 square feet of available space at 140 William Street, a seven-story bank building previously owned by developer Kent Swig.
Chris Soukas bought the building, at an enormous discount, for $11.35 million earlier this summer. Mr. Swig — he of the unfortunate timing — acquired the building for $23.9 million in 2007.
According to Sierra Realty, the tenant could be, well, anybody! The building could easily accomodate residential or commercial occupants, or even a hotel.
"We think it could be a great building for medical offices," Sierra EVP Peter Braus, the building's marketing agent, told The Real Deal. (Paging St. Vincent's ex-pats.) "There is a huge need for educational space downtown now," he continued. (Paging NYU.) "We're also entertaining the option of doing some residential on the upper floors." (Paging anybody.)
Asking rent is in the range of $120 per square foot annually for retail space and around $30 per square foot for the offices.
zturner@observer.com