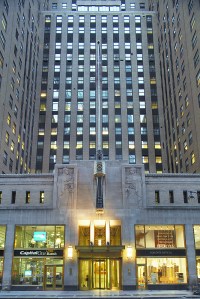 420 Lexington Avenue
At least one beloved Gray Lady in the city appears to be in stable condition.
The octogenarian Graybar building will hold on to one of its oldest tenants, the DeWitt Stern Group, as the local insurance company has inked a renewal and expansion in the building for 36,783 square feet.
The renewal brings the total space leased in the building at 420 Lexington this year to more than 157,000 square feet, including a 90,000-square-foot lease by New York Life Insurance.
"As one of the building's oldest tenants, the DeWitt Stern Group was pleased to remain at the Graybar Building, one of Manhattan's signature office towers," Eric Reimer of Jones Lang LaSalle, who repped the tenant, said in a statement.
Under the terms of the 15-year lease, DeWitt, which previously occupied part of the 27th floor, will also grab a portion of the floor below.
SL Green refinanced the building last summer with a $145 million loan from TIAA-CREF. The landlord plunked $84 million into refurbishing the building after purchasing it in 1999, and had taken out a couple of significant loans.
More than 225,000 square feet is coming vacant by January 2011 in the 1.24 million-square-foot building, according to MrOfficeSpace.com.
The tenant was represented by Chris Kraus and Mr. Reimer of Jones Lang LaSalle. SL Green was represented in-house by Larry Swiger.