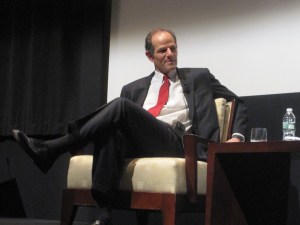 Eliot Spitzer sat down for a public conversation at Fordham Law School last night with professor Thane Rosenbaum and the former governor said he does not dwell on the past, according to our Meghan Keneally.
"Let me not say, 'Gee, here's what I would have done.' Who knows? It's very hard," Spitzer said. "There's fame, there's infamy, there's celebrity, they're all different things and bring different upsides and downsides. I was listening to your introduction, you said that my life has never been dull. Dull looks pretty good sometimes."
Rosenbaum asked Spitzer if it was hard to sit on the sidelines while major decisions get made without him.
"Sure it was, but to continue that metaphor, I benched myself," the former governor responded. "It was hard on many, many levels, just as its hard for anyone who cares about these issues."
Spitzer also had relatively kind words for Andrew Cuomo, someone whom he has tangled with in the past.
"I think he has seen both what Albany is, the upsides, the downsides," Spitzer said. "I think and I certainly hope–based on a lot of conversations with people who are involved in his campaign–that he appreciates the structural problems New York state faces right now…I don't think its my place to start giving him advice, I think he understands the significance of the decisions he'll make."
Spitzer did say however that he thought the new governor should focus on K-12 education, higher ed, and infrastructure.
Finally, Spitzer was asked about what everybody is asked about these days: Sarah Palin.
"I think we think about her too much," Spitzer said."She has remarkable talent as a political performer."
He added, "As a Democrat, I hope she is the Republican nominee."