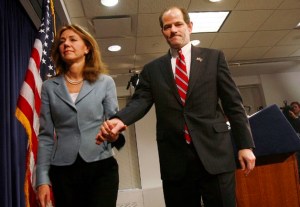 Not long ago, inquiries to Eliot Spitzer's office about setting up an interview were met with a prompt early-morning callback from the man himself with a simple message: No.
Now, however, it seems Eliot Spitzer is all over the mediasphere, and that's not including his new CNN show, because as we know, no one even watches that anyway.
No, we are thinking of yesterday's Daily Beast interview in which Spitzer reveals that he does not regret not having a Bar Mitzvah and that no, he is not addicted to prostitutes.
And today there is yet another volume we can add to our shelf of Spitzerarcana, with this interview in GQ in which he reveals a.) why he decided to participate in the new Alex Gibney documentary, b.) how his wife feels about the films, and c.) whether or not a politician should have to step down for doing what he did.
The answer to those questions is…
a.) "The simple notion that it's better to get an accurate statement of what happened than to leave it to those who would write fiction. Alex has done serious stuff in the past that seems to be fact-based, so I said okay."
b.) "This is obviously not easy for Silda or the kids. That's why I'm trying desperately to do what I need to: To answer this issue and then move beyond it. To protect them. Because they've gone through something that nobody should have to go through."
c.) "I'm probably the worst person to pass judgment on that. The only thing I can tell you is that I know a surprising number of Europeans who say, 'Move to Europe-nobody cares.'"