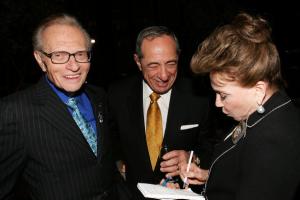 According to a story in the Los Angeles Times this morning (by way of Politico), Larry King wanted to end his 25-year run on CNN the same way it started–with Mario Cuomo as his guest. But apparently the wounds between the Cuomos and CNN's newest host, Eliot Spitzer, run too deep.
King said Cuomo had agreed to join him, but balked after Spitzer called Andrew Cuomo "the dirtiest, nastiest political player out there" in a September interview.
"I don't know what he said," King said, "but [Mario] Cuomo calls up CNN and says, 'I will never go on CNN, because Spitzer is on there.'" King has tried everything to make it right. He has left messages. His brother has called. So has one of the guys who knows the Cuomos.

"The Italian core. It's a family thing," King says. "I can't believe it."
King has until December 16 to convince him.