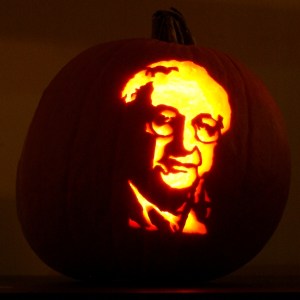 Halloween may not have been sweet for all the children of Manhattan, but a daring design duo certainly enjoyed themselves. Showing just how clever–and skilled!–good designers can be, Kyle May of Abrahams-May and Julia van den Hout of Steven Holl turned their favorite architects, from Mies to Gehry, Zaha to Zumthor, into Jack-O-Lanterns.
(Is it any coicidence Abrahams-May was responsible for the Real Estate Desk's favorite Sukkah City entry, LOG? The pair also got help on two of the pumpkins from friends Human Wu and Jeff Franklin.)
In case there was any doubt, in this age of PhotoShop, that these things weren't actually hand-carved, proof is below. Hopefully this helps put to rest the idea that craft is dead. After all, Auto-CAD will never beat a good X-Acto knife, at least not on All Hallow's Eve.
SLIDESHOW: 16 Spooky Starchitects
mchaban [at] observer.com | @mc_nyo