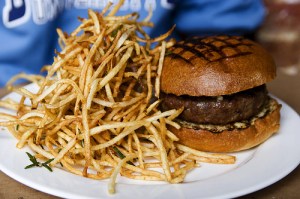 The New Yorker's dining issue hits newsstands today, and though most of it is behind the paywall, Lauren Collins' lengthy piece on April Bloomfield — the kitchen master at The Spotted Pig and The Breslin — is online in full. The article is quite sumptuous to sample: As a whole, "Burger Queen" is an in-depth look at New York's quick embrace of the British chef's approach to buttery, meat-heavy gastropub indulgence.
To offer a purely anecdotal take, however, we'll direct you to a moment relayed early in the story. It's a regular night at The Spotted Pig, and Jay-Z, Beyonce and guests have inquired about the restaurant's no-frills Roquefort burger, which one must order sans substitutions of any sort.
One of Jay-Z's friends wasn't sure about the Roquefort. Bloomfield hates to leave the kitchen, but [co-owner Ken] Friedman dragged her to the table, where she prevailed upon the friend to have the dish the way she had intended it.

"Who's that golfer dude you made me meet?" Bloomfield asked Friedman later.

"He's not a golfer," Friedman replied. "He's Kobe Bryant."
Another piece of Spotted Pig trivia from the New Yorker piece: Unless your name is Lou Reed, good luck ordering onions on your burger.