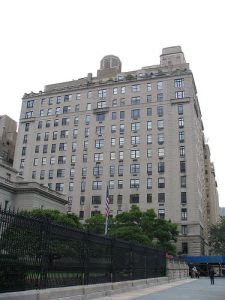 Trust a defense honcho to quietly conquer a palatial triplex apartment.
Former Bush assistant secretary of defense, James Shinn, and his wife, Masako, an artist, have bought a ninth-to-11th-floor unit at 2 East 70th Street originally listed for $19.5 million last February. But even a coveted address overlooking the Frick on Fifth Avenue couldn't prevent the price from parachuting to $14.95 million. The couple quietly paid $11.75 million for it this fall.
Joan Crawford once swept down the stairs in her corner penthouse wearing black silk and pearls. But the movie star's eight-room throne looks modest in comparison to the Shinns' nine-room place downstairs, with mahogany floors, a cavernous oval dining room and a swirling three-story staircase.
"It's really like having a townhouse inside of a building," said Prudential Douglas Elliman broker Daniela Kunen. More cryptically, another broker familiar with the apartment said: "It's like a vertical railroad car apartment."
Crawford moved into the building in 1957 with her husband, Pepsi chair Alfred Steele, but she was forced to leave after his death when she was unable to afford the staggering $3,000 maintenance payments. But those lucky enough to grab a spot in the Candela-designed 15-unit building usually hold on until they die, as was the case with the ninth-floor apartment's owner, superstar dermatologist (yes, there is such a thing) A. Bernard Ackerman.
The late doctor pioneered the microscopic diagnosis of melanoma, while continuing to insist the disease was not caused by sun exposure. He was only the apartment's second owner, and was apparently so averse to change that he kept the original 1927 bathroom sinks. "He preserved as much as he could," Ms. Kunen said. "He maintained and lubricated it. He's a real purist."
The Observer first spotted the sale when the Shinns sold their five-floor Italianate Lenox Hill townhouse for $13.65 million. That was a $1.35 million loss compared to what they paid in 2007, but the stealthy military man seems to have known exactly what he was doing.
lkusisto@observer.com