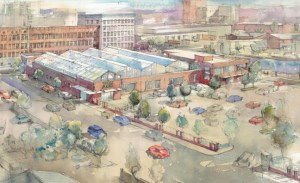 Brownstone Brooklyn's foodies (is that redundant?) can finally rejoice. No longer will they have to settle for the Trader Joe's on Atlantic or trek all the way out to the Fairway in Red Hook for the finest produce and prepared foods. Lo, Whole Foods is finally coming to Brooklyn's fair shores.
Those aren't any shores, though, but the Gowanus Canal's. The superfood superstore has been planning an outlet at Third Avenue and Third Street for more than a half-decade. Part of the hold-up has been both contamination on the Whole Foods site, which was recently cleaned up by the state, as well as the ongoing saga of the muck in the canal itself, and whether it was worthy of being designated a Superfund site. The answer, as of this spring, was yes. Still, this did not deter Whole Foods, as the mayor feared it might. (Other developers were not so keen.)
Brownstoner got its hands on a letter from a Whole Foods rep to the chair of the local community board describing in detail the company's current plans. The store will measure 52,000 square feet, 25 percent smaller than originally planned, and there will also be fewer parking spaces, downsized from 430 to 248–including priority spaces for energy efficient cars and even an electric car charging station (strike two, Red Hook). Other awesome additions include–what else?–a 20,000-square-foot rooftop garden for growing organic veggies to stock in the produce isle. It doesn't get much more Brooklyn than that.