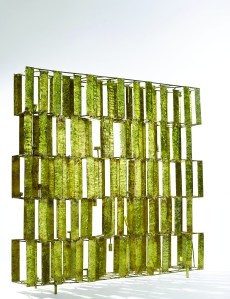 Even at the height of his success, Harry Bertoia was less famous than his friends. Charles and Ray Eames, Florence Knoll and Eero Saarinen were his colleagues and sometime collaborators, but, unlike them, Bertoia usually chose not to sign his pieces. "Man is not important," he said. "Humanity is what counts." His voluntary anonymity has long reigned in the prices of his sleek, chic works, even though they dot the country.
All told, there are 50 Bertoia public sculptures in the U.S. On Fifth Avenue, in the old Manufacturers Hanover building (now JPMorgan Chase), an 800-foot Bertoia screen of floating metal panels is in the process of being dismantled–an innocent victim of a corporate takeover. (It will go into storage.) At the 1964 World's Fair, the Kodak Pavilion featured seven Bertoia metal-rod dandelions around a fountain. But he is most associated with the iconic "diamond" chair, a curvilinear seat of molded metal mesh that will look familiar to attendees of Lincoln Center events. Simply put, "He's the granddaddy of modern design," said Hope Dana, a New York architect who grew up in one of New Canaan's international-style glass houses.
On Wednesday, Nov. 10, 18 examples of Bertoia's sculpture–sprays, dandelions, sunbursts–will go on the block at Sotheby's, in a special sale devoted to the Italian-born craftsman. Most of the art comes from a private collection; three pieces are public commissions. Bertoia was a "favorite sculptor of international-style architects like Gordon Bunshaft, who used his works in their buildings," said James ZeMaitis, senior vice president of 20th-century design at Sotheby's.
The cover lot of the auction is from 1962, a 12-foot-high stainless steel and marble dandelion, 6 feet in diameter, from the Hilton Hotel in Denver (estimate: $250,000 to $350,000). The sleeper of the collection, according to Mr. Zenaitis, is a "wonderful 'baby bush' form conservatively priced at $20,000 to $30,000." Called Dogwood III, the 1962 sculpture is patinated bronze and brass. A metal screen designed for One Marine Midland Center in Buffalo ($80,000 to $120,000) is "a mini-version of the one in JPMorgan Chase currently being dismantled," he added.
Will success for the Bertoia sale make the man any more famous? And does it matter? Dan Chung, a contemporary art collector and president of Fred Alger Management Inc., said, "He was a quieter guy who designed beautiful sculpture–organic forms with simple material."
editorial@observer.com