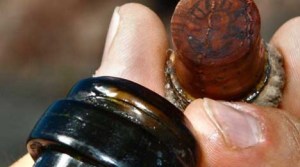 A ship captain's folly, 200 years ago, has become a modern-day sommelier's fortune. A recently discovered shipwreck found near the Aland Islands in the Baltic Sea was entombing 168 bottles of Veuve Clicquot Champagne and Juglar Champagne, and it's said to be the oldest bubbly in the world. 168 bottles — talk about a booze cruise!
The more cautious, careful person would encase these artifacts in a museum, where they can forever be gawked and pointed at. But instead, those in charge of the ancient Champagne handled the finds with much more acuity: they popped the bottles and drank away.
A reporter for the Associated Press was there with a filled flute, lucky enough to sample the goods. "I raised a wine glass containing about an inch (a few centimeters) of champagne, tiny pieces of cork and very little fizz," the AP report said. "A mushroomy flavor soon gave way to sweet notes of honey."
Very sweet notes, apparently. The style of bubbly back then called for 100 grams of sugar. Now, the norm is nine.
An expert was on hand to explain to the laymen what the most refined palates taste in the stuff. It turns out we've got chanterelles, honey, orange and peach in the Juglar variety, and linden blossoms and lime peels in the Veuve Clicquot. The more you know!
The Aland government wil sell the bottles at auction, and they expect to fetch $70,000 a bottle. Start saving up!