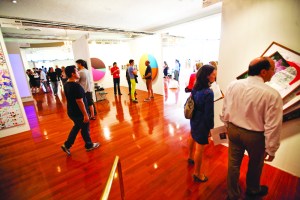 When a couple of hundred art dealers checked into the Deauville Resort in Miami Beach last December for an art fair, it was a new crowd for hotel concierge Abner Herrera, who is more used to vacationing families. "I would see them come in at 6 a.m., take a shower and come back down at 9 a.m," he said. "They really took advantage of South Beach, that's for sure." Some dealer activity, from booth setup to lobby strolling, others present at the Deauville said, seemed to take place in bathrobes.
The terry-cloth tribe was the New Art Dealers Alliance, which is, depending on whom you talk to, the coolest club in the art world, a bunch of stuck-up outsiders, or an art gallery farm team that dealers desert as soon as possible for the big leagues. NADA opens its annual art fair in Miami on Thursday, Dec. 2. It's one of about 16 art fairs that will open in the coastal city next week, all satellites of the huge annual Art Basel Miami Beach art-selling extravaganza. But the NADA fair, for reasons both fair and foul, draws more attention than most.
In the past year, NADA's membership has swelled to 300 (mostly New York galleries) and its board has doubled in size. This year's event will feature 89 galleries–more than both of its biggest competitors, the Scope and Pulse art fairs. "Our reputation is growing," said Heather Hubbs, NADA's director since 2004.
But, as it turns eight this year, NADA, a nonprofit, still struggles to break even. It has cut the fair's duration and booth prices to stay afloat and remain attractive to potential participants. (Galleries now pay $9,500 or $7,500, depending on the size of the booth, down from $11,500 in 2008.) Though the organization has acquired some serious clout and a reputation for showing some important emerging artists, many participating galleries still see it as a steppingstone to Art Basel. It has been labeled cliquish and exclusive by dealers at nonparticipating galleries and overconfident by those at rival fairs.
Today, many original members–including James Fuentes, Nicole Klagsbrun and Kavi Gupta–have moved on to larger fairs such as Art Basel. Other early members, like Bellwether, John Connelly Presents and Roebling Hall, have shuttered. "It's a generation of galleries that have grown up and moved on," said Mr. Gupta. With galleries constantly moving on to the main fair, "NADA has to constantly reinvent itself," said Lower East Side dealer Lisa Cooley, a longtime member.
Founded by a small group of New York gallerists over drinks in 2002, NADA began as an alternative for younger galleries to the Art Basel Miami fair, a Swiss-run event that draws about 50,000 people annually, including wealthy collectors from all over the world. (Its sponsors include Union Bank of Switzerland, Cartier and NetJets.) NADA, with its upstart, "let's put on a show" energy, was immediately successful. Hammocks hung from the trees in the park outside of the warehouse it rented. Early visitors included a mix of top collectors, stars (Beyoncé, Shakira), and buyers for Charles Saatchi. Key to its success was its traditional opening-night benefit for New York's New Museum, a partnership that instantly earned it credibility. The presence at the fair of Zach Feuer, a rising young dealer whose shoppers included Hollywood producer Dean Valentine, helped, too.
The situation soured as the fair grew–rivals, particularly Pulse, grabbed some of the buzz. The benefit for the New Museum ended. Some galleries "graduated" to Art Basel (all told, 30 have done so, although some have come back, NADA noted), which had both positive and negative effects on those remaining. To be a part of NADA, said one former member, is to be part of a "permanent junior class. It started to look as if, if you weren't moving on to Basel, there was something wrong with you."
Other dealers who had been among the fair's biggest boosters were dropped with little explanation, leaving bad feelings. Jack Hanley, a member of the selection committee, said that it was important to infuse the fair with new blood every year. "I think we mostly were looking for something that was really fresh, that was not part of the fair before," he said. But "there's a lot of squabbling," said Phil Grauer of Canada Gallery, also a member of the selection committee.
NADA's application may have fueled the charges of snobbery. It asks for "a brief history of your gallery program, list of 5-10 artists to be shown at the fair and 2-3 visual examples per artist; color print-outs preferred," an application similar to Art Basel's. Meanwhile, another fair, one that sets dealers and their art up in hotel rooms, asks less involved questions, such as, "Do you want the furniture removed from the rooms you'll be showing your art in?"
Ms. Hubbs said NADA has made every effort to expand membership, although "the fair is only so big." This year, NADA said it received 300 applications for approximately 80 slots in the fair. (Pulse actually has a lower aceptance rate.) "I think there's a constituency out there that sees it that way," said Ms. Hubbs of NADA's reputation as a snobby cool-kids group. "I think sometimes people get that hostility just because they get the rejection letter," said Katie Loughlin, NADA's assistant director. Said one Lower East Side gallerist who is not a member: "I do find it a little cliquish." He added later, "I guess I just feel a little left out. It sucks."
But many things seem to be changing at NADA. Originally, said a representative from a competing art fair, "they wanted to be very self-righteous; they didn't really want to try to get people in." Now, he said, "they've wised up," teaming up with Independent Curators International to provide $20 fair tours. Indeed, this year, NADA has done a lot differently. It has partnered with Canyon Ranch, located next door to the Deauville, to offer reduced rates to its VIP collectors and lure them to NADA's North Miami location uptown. Canyon Ranch will also host an all-female sculpture-garden installation curated by NADA. A new initiative called "Projects" will feature smaller booths for pioneering young galleries. (But, the image of inclusiveness aside, it's still by invitation only.)
"It's very important," said Matthew Higgs, director of White Columns and a NADA member, "that NADA remains flexible, idiosyncratic and innovative."
The biggest change for NADA came last year, when the fair moved from its far-flung downtown Miami space at a venue called the Ice Palace (now taken over by Pulse) to the Deauville Resort. It was a huge risk: The resort may have been the same distance from Art Basel, but it was far away from any other satellite fair and straight up Collins Avenue. (Imagine Las Vegas if Art Basel was at one end of the strip, and NADA at the other.)
"People said, 'Why are you moving that far up? No one's going to come,'" said Ms. Loughlin. In the end, the move oceanside was widely praised–and an indication of NADA's ability to attract crowds on its own. NADA won the turf war. The fair reports that attendance stayed steady at 20,000 visitors, although some participants privately put the crowd at a few thousand lower annually.
"It was a change-is-good moment," said Augusto Arbizo of Eleven Rivington Gallery, a member. "A lot [of collectors] came for repeat visits, which is not something they would have done at the Ice Palace."
It also made the whole bathrobe thing possible.
editorial@observer.com