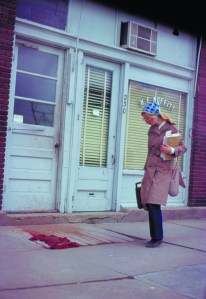 One night in the northern suburbs of Tokyo, after dinner in the home of a volunteer fireman, I asked about a framed scroll on the wall. The fireman explained that it was an ancient saying that translated as "the four seasons have no form." There is no clear line of demarcation, in other words, between summer and fall–but we can still understand that they're different.
This saying, meant to describe the basic nature of everything, happens to be an apt description of "Autumn Buffalo," a suite of 16 large oil paintings by Daniel Hesidence currently on view at D'Amelio-Terras Gallery.
The paintings look, at first sight, like completed figurative works that have been drowned, or else like vivid, emotionally unconstrained attempts to depict some kind of living flux; but because the brushwork is so deft, so considered and careful, they reveal themselves, on closer consideration, to be more like still lifes of a bonfire. There are occasional surprising sharp lines, sometimes in blue, but usually in white, so that they read not as parts of the painting but as lines where paint has been scraped away. The layering of progressively sharper brushwork creates an astonishing holographic effect.
Most of the pieces are in exactly the palette you'd imagine from the show's title, browns and ochres with accents of yellow and off-white, colors that read as flesh, fire, dirt, buffalo hide or wood. Several of the paintings are marked with marching lines of repetitive white figures, like the hoof tracks of an animal walking around the canvas, looking for a place to stop. The flamelike patterns could be inspired by the inside of a fruit, the inside of a heart or the inside of a tree–by any organic form cut open to reveal the hidden order, complex to the point of apparent chaos, inside its simpler outer shape. The most successful experiment with form, a multi-lobed blue figure on a chilly white background–in the context of the other, warmer paintings, this one looks like a color negative of itself–could be a moving image of something still or a still picture of something moving, but it is, finally, only itself. The least successful, a smaller piece that looks like a figure eight, looks only like a figure eight.
The key to all these paintings is in those occasional, surprising white lines. If they had actually been gouged out with the point of a palette knife, turning aside paint to reveal empty canvas beneath, the message would be clear: Line would be the opposite of color, and color's meaning would be inseparable from its ambiguity. But this emptiness is an illusion. White is also a color; the lines are also paint; and it's the ambiguity that isn't real.
ONE ARTIST UNTROUBLED by doubts about the force and reality of color was Ana Mendieta. Born in Cuba in 1948, and sent to the United States with a sister at age 12, Ms. Mendieta died, in New York, 25 years ago, and to commemorate that unhappy anniversary, Galerie Lelong is showing never-before-seen photos, slides, videos and artifacts from throughout her short career. Many of them document her siluetas, works in which she dug, impressed, exploded or burnt the shape of her own body directly on or into the earth. Although most of the images are documenting time-based pieces whose main thrust was performance–some of the work on display is also work in its own right–they all display the same formal coherence and beautiful intensity.
Ms. Mendieta's reds are bloody because, often enough, they are actually blood–the bloody red print of a body on a white shroud; the residue of two bloody arms dragged painfully down a wall–so that even when the red is actually acrylic paint, as in El Laberinto de Venus, which shows a primordially obese female figure in outline with spirals for genitals and breasts, it still strikes the eye as forcefully as blood. Another piece, People Looking at Blood, Moffitt, documented in 35-millimeter color slides, shows people stopping to look at or walking past a vivid, recent bloodstain on the sidewalk. Altogether Ms. Mendieta's colors are what the psychotherapist Max Luescher calls "psychological primaries": Red is always blood, green is grass and a bluish-black is the night.
ON THE OTHER hand, some artists create extraordinary ranges of color without using color at all. Across the street from "Autumn Buffalo," Sonnabend Gallery is showing 26 of Bernd and Hilla Becher's pristine photographs of New York water towers, as well as six newly constructed "typologies." Without ever tipping over fully into either black or white, the Bechers used subtle distinctions of gray to construct forms of perfect clarity.
editorial@observer.com