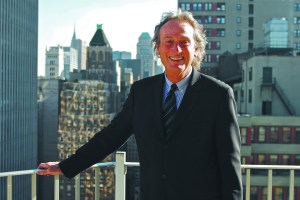 It was on the prestigious grasslands of the National Golf Links of America that the broker Marc Schoen made his very first grand impression on Bob Savitt.
Described as "America's snootiest golf course" by Sports Illustrated, the 99-year-old private club in Southampton served as the backdrop for a meeting between Mr. Savitt and a handful of brokers, whom he had handpicked to solicit ideas on how to upgrade one of his buildings, at 530 Seventh Avenue.
An agent for Hunter Realty who only three years earlier had fled his lifelong pursuits in the fashion industry, Mr. Schoen knew the building intimately. Indeed, as a tenant rep, the New York native already had begun to parlay his connections with the garment center into leasing deals at the building–in part to make a splash with Mr. Savitt.
At the time, the 480,000-square-foot building was a knot of old showrooms, shipping areas and cutting-room floors for the city's second-tier designers, as was typical then across that stretch of Seventh Avenue fabric entrepreneurs.
On the fairway that day, however, the real estate strategy abruptly changed.
"He said to us at the outing, he said, 'Guys, I'm bringing you all here today because I own a building in midtown that I want to change from an old-fart ladies' building to a hipper building,'" recounted Mr. Schoen, in a disarming, plainspoken way that has served him well in both industries. "And he'll tell you today, I was the only one that got it–I impressed the shit out of him."
Today, the building froths over with a cascade of glass-fronted showrooms for the industry's most-buzzed-about designers, each presided over by waif-thin young Fashion Institute grads. As a whole, the clothing tenants at 530 Seventh Avenue could reopen tomorrow as retailers in the most luxurious mall in Manhattan. But that isn't the point, said Mr. Schoen, who since 2008 has represented the building as a leasing agent for the man himself, Bob Savitt.
Not long after that grand impression on the fairway, Mr. Savitt appointed Mr. Schoen as a senior partner at the eponymously named real estate firm he founded back in 2008. The opening gambit worked, it turned out, and ever since then the fashion entrepreneur has continued to lower his handicap in the dicey commercial real estate game.
"I'm now considered as somebody who does a lot of office deals as well as fashion, so I've really opened up my world," said Mr. Schoen, now 58, who helms a team of five brokers at Savitt Partners, including his 29-year-old son, Michael. "So I've truly broadened my horizons since I've been with Savitt."
This year alone, Mr. Schoen has tallied an impressive 250,000 square feet of leasing transactions, many with those same fashion industry leaders he first broke bread with some 20 years ago.
In addition to tenants like Swavelle Fabrics, Fashion Avenue Knits and At Last Sportswear, Mr. Schoen sealed deals earlier this year with the Julia Group, Bismarck Phillips and On Press Graphics, among other transactions.
More recently, Mr. Schoen pulled from his tangled web of fashion ties a deal with the firm P/Kaufmann, the home furnishing designer for whom he first signed a 23,000-square-foot deal during his early years as a broker for Hunter Realty. According to Mr. Schoen, the home designer is about to return the favor by nesting an expansion and renewal egg for about 51,400 feet at 3 Park Avenue.
"These are people who I did business with, and a year or so into my real estate thing, one of them called me up and said, 'Aren't you doing real estate now?'" recalled Mr Schoen. "I was loyal to them and they were loyal to me."
BEFORE MR. SCHOEN was putting around with one of the city's most successful real estate personalities on one of the most exclusive golf courses in America, he was climbing his way up from the bottom of the fashion industry heap.
Born and raised in Long Island, where he still lives today, Mr. Schoen began his professional life at the age of 19 as a picker and packer of dresses for the company Jonathan Logan, where he worked in the shipping area. One year later, the industrious young striver shimmied his way into a showroom at the design firm, which specializes in women's apparel for film and TV.
After another year with the company, he was promoted again, this time as a road salesman. As he describes it now, the job gave him his first shot at sales. "I was just so hungry to make a better living, and I always knew I could sell," he said of the sales job he kept for six more years. "I said, 'I can do this.'"
But as the fashion and retail landscape shifted, the ever-ambitious Mr. Schoen took a shot at opening a clothing store of his own in the disco days of 1978.
Married seven years earlier to the woman he remains wedded to today, Mr. Schoen opened a dungaree store on Fire Island whimsically named "Fa Fainting," in reference, apparently, to the temporary loss of consciousness brought on by the boutique's diverse collection of clothing. "Because you would fa-faint from all the clothes," he said. After four years running the store with his wife, Lori, he sold it to BFO Menswear and, again, moved on.
After a stint in the trucking industry, in which he focused his fashion expertise on textile conversion–yes, he's been there, done that–Mr. Schoen rolled the dice on a risky bet as a commercial broker. The inspiration stemmed both from the brokers who constantly came begging for his fashion leads, and his wife, herself an agent who saw in her husband a future real estate wizard.
"My wife basically looked at me and said to me, 'Go get your real estate license. With your relationships, with your mouthpiece and your drive–'" Mr. Schoen jawed, trailing off for just a moment. "I mean, it was really a no-brainer, but I didn't realize it at first."
Among those brokers who had been nagging Mr. Schoen for all his fashion industry gossip, it was Hunter Realty managing director Alan Sinovsky who campaigned the hardest for his safe passage into the industry. When he accepted the job as a broker at Hunter, Mr. Schoen was a ripe 48.
And after several years, he found himself at the private golf club in Southampton, on that momentous day with Mr. Savitt that landed him in the big leagues with Savitt Partners. Despite his rapid accent, however, the rising agent hasn't betrayed his roots. "I was the man on the street. I was the seller. I could put two guys together, but I didn't know the technical end of it," Mr. Schoen said. "Now I've jumped 100 percent because not only am I a salesman now, but I'm a broker. I'm a real real estate person nowadays."
jsederstrom@observer.com