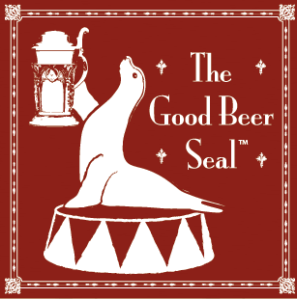 What: The Good Beer Seal
Where: Jimmy's No. 43 and 26 other bars around the city
Why: Because wine shouldn't have all the fun
It was September 2008, on the last night of New York City's first Craft Beer Week, an official celebration of everything brewing in Gotham. Jimmy Carbone was talking to the event's founding director, Josh Schaffner, at the end of the bar, near the front door, of Jimmy's No. 43, the pub that Mr. Carbone opened in the East Village five years ago.
"Wow," Mr. Carbone recalled saying, during an interview Nov. 4 near the spot of his fateful conversation with Mr. Schaffner, "There's something going on here that's great. It needs to be continued year-round."
Mr. Carbone in the next weeks talked to other bar owners. He talked to Gary Gillis at Burp Castle; Ray Deter at d.b.a.; Dave Brodrick at Blind Tiger; Joe Carroll at Spuyten Duyvil. Together they hatched an idea both simple and portentous, one that's now intensely local but that could—I think should—reverberate nationwide: the Good Beer Seal.
Simple this way: A bar earns the Good Beer Seal (the seal is pictured above to your right, and you will currently find it slapped on the walls of 27 bars in four boroughs) if the establishment is independently owned; if 80 percent of its beer is craft domestics or special imports; and if its staff is knowledgeable about the beer and committed to presenting it properly (e.g., in the right glassware at the right temperature). A group of writers and critics, meeting in a back room of Jimmy's No. 43, picks the bars that get the seal (though that first year the bar owners picked the inaugural recipients themselves). There's no membership fee.
The second batch of members was inducted during a party on May 25 at d.b.a. Williamsburg; owners from 22 of the 27 member bars attended. The writers' conclave will choose the next round of inductees this winter. Habemus zythum!
The Good Beer Seal is portentous largely because it suffers from what anything that seeks to expand physically in New York City suffers from: eventually, it will run out of space. Unless X number of independently owned bars opens serving 80 percent craft beer, with a knowledgeable staff that satisfies even the thirstiest beerhead, after Y years the Good Beer Seal will cease really expanding. Maybe one or two, here and there, each spring, but that's it. Mr. Carbone did say that this winter the writers may include beer retailers and restaurants with good beer selections. Still, even that all but ensures the seal running its course in, say, the next decade, if not much sooner.
Why not expand outside New York City? Start slapping the seal on worthy bars in Chicago, L.A., Peoria? The craft beer movement in America is just that, and much of its momentum is due to independent bar owners like the amiable 45-year-old Mr. Carbone, with his achingly charming Jimmy's No. 43—dark wood, dim lighting, stone ceilings, exposed brick, a kaleidoscopic run of taps; the subterranean bar turns "beer cozy" into an adjective.
Over glasses of Belgian pale ale from Barrier Brewing, a Long Island nanobrewery (Evan Klein, the owner, had delivered the beer himself that day), Mr. Carbone modestly danced around, then away from, the possibility of moving beyond the boroughs. "We have talked about maybe going to another city or two," he said. "I think that when this seal initially started, some of the distributors were like, 'This is great, you guys could be like the Michelin star of beer,' which could apply to thousands of places around the country. We don't know yet."
Besides, the seal has its hands full in New York. "There were some bigger operators—I don't want to mention who—who were like, 'Oh, you have to get us in. If you don't, we're just going to photocopy the seal and put it up,'" he said. "Everyone who sold beer was like, 'Why am I not on this?' People were really upset."
Mr. Carbone himself knows from wine. He mentioned during the Nov. 4 interview that he had come to beer through wine. "And, of course, there's the DOC in Italy; so maybe that's in the back of my mind." As he explained further in a later email, he had worked part-time in a restaurant and "became the wine/beer/liquor buyer for the manager. Read Kermit Lynch's Adventures on the Wine Route. Started a lifetime of interest, first in small wineries and then small breweries."
Some Western European laws dictate that wines have certain designations connoting things like where the grapes were grown and how carefully. In Italy, for instance, it's DOCG, DOC and VDT, with DOCG (Denominazione di Origine Controllata e Garantita) the highest designation and VDT (Vino da Tavola) for the plonk. So why not have something similar (though obviously not apples to apples) for craft beer bars in the U.S.A.?
No one, including Mr. Carbone, advocates getting the government involved in labeling quality. As for jumping the Hudson, despite the tantalizing—and, one would think, reasonable—possibilities: "It may just be O.K. to have a select group of good beer places in New York City. Maybe that's it—maybe that's all it has to be."
For much more info on the Good Beer Seal and its member bars, click here. Mr. Carbone also tipped his hat to the reporting of Rachel Wharton for Edible Brooklyn and Edible Manhattan, who first broke the news of the Good Beer Seal.
PREVIOUSLY > BEER, THE ORIGINAL SLOW FOOD

tacitelli@observer.com and Twitter: tacitelli