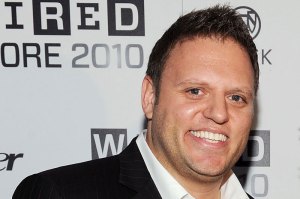 Howard Mittman is a big boy. Emphasis on big, emphasis on boy: 6-foot-3 and 240-ish, poured well into a black Zegna suit, but disarmingly mild, with a cherubic expression and none of the murderous drive you might expect to find in the publisher and vice president of Wired.
Last Thursday, at the launch party for the magazine's new pop-up store, on Broadway and West Fourth, where all manner of ridiculous technology was for sale at ridiculous prices, Mr. Mittman wondered if The Observer was feeling under the weather. "Can we get you some Airborne?" Mr. Mittman asked. "Some Echinacea?"
If Mr. Mittman was more beatific than usual, it was because he was having a very good day. That afternoon, the Wired advertising team had popped bottles to toast their 800 pages sold for the year, erasing the financial losses of 2009, when Wired was thinner than an iPhone.
Now Mr. Mittman could boast that it was the fastest-growing monthly at Condé Nast, up 24 percent over 2009.
"I have to give Si [Newhouse] and Chuck [Townsend] some huge kudos, because it takes tremendous, you know, brass you-know-whats–you know?–to look at business units and believe in them and plan for investment at a time when not too many folks were thinking that way," Mr. Mittman told The Observer.
The 37-year-old is part of a new breed of less bombastic executives at the company after the humbling recessionary plummet in luxury advertising. As a publicist put it, he is "big but not Mr. Big" (the ballsy Sex and the City character modeled after a Condé publisher).
In 2010, Mr. Mittman expanded Wired's conference business, a profitable venture, and in May, Wired arrived on the iPad, with what is generally considered the first really great magazine app. Advertisers were tickled by tablet extras like video and geolocation (Burberry was impressed enough to buy in–the title's first luxury fashion client), and consumer sales have hovered just high enough that Condé decreed that its other titles will one by one hit the platform in Wired's image.
The opening of the pop-up store, now in its sixth year, was a chance for Mr. Mittman to celebrate and hobnob. Near the door, he posed for pictures with Matthew Modine, who wore a teal scarf and told Mr. Mittman about his plans for a Full Metal Jacket iPad app. Matthew Settle, who plays the dad on Gossip Girl, told him he loved the magazine. "I'm all about technology–nanotech, robotics," he said. Did Mr. Mittman think such things could rescue the economy? Mr. Settle also offered a pretty good summary of Wired's December cover story about making a latticework of stem cells to create healthy tissue.
Grizz Chapman of 30 Rock threw an arm around Mr. Mittman, who reminded him that they'd posed together once before, along with the actor who plays Dot Com. "My Facebook photo for a year and a half was me standing between those guys, because they're what, 6-7, 400 pounds?" Mr. Mittman said later. "I looked like a Smurf."
Mr. Mittman grew up on Long Island and attended Ohio State University. Condé Nast hired him in 2006 from Popular Science, where Min's Advertising Report had named him a 2005 sales executive of the year. By February 2009 he was Wired's publisher.
The tech-heavy title works hard to remind the world that it's not for nerds. Or, if nerds are among its readers, they are the kind who appreciate a well-written feature on molecular gastronomy.
"There is decidedly a velvet rope around this brand, and the velvet rope is there because if you get it, you get it. And if you don't, we don't want you inside," Mr. Mittman said. He quickly added, "Not in a snobby way."
Once you're inside the pop-up store's rope, here is what you can buy: a $15,000 coffee table made up of 54 magnetically levitating cubes and tensile steel cables. Or, slightly more likely to sell, a Wired Jack Spade messenger bag collaboration and a U.S.S. Enterprise pizza cutter.
Mr. Mittman pointed out that the company had changed its name from Condé Nast Publications to just Condé Nast. "It's widely accepted that our dependence on print ad pages has to decrease in order for us to grow to where we need to be," he said. Hence the store, the conference business–and the iPad app. Today, tablet advertising is mostly an add-on for existing print buyers. But the potential of the digital magazine format got the Wired publisher excited, and for the first time, a little geek came out.
"If you can combine trackability and the dynamic visuals that are ubiquitous on the Web, with the power of branding and design that's known on magazines–that's the Holy Grail," Mr. Mittman said. "A direct response mechanism for the ultimate branding vehicle? Game on!"