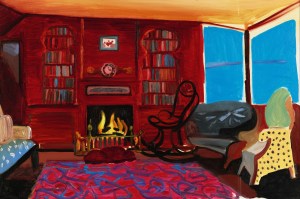 Strong prices for Andy Warhol and Roy Lichtenstein at the big fall contemporary art auctions last week obscured the runaway success of works by some younger, or lower-profile, artists. At Phillips de Pury in particular, at the firm's little-noticed daytime sale of "cheaper" art, bidding for emerging artists took off.
Thirty-year-old Dan Colen's Untitled (Birdshit) (2006-2007), for example, brought $110,500, more than triple its presale price estimate at Phillips. So the artist's more recent work-blow-dried bubble-gum paintings-has had its vocal detractors, but at least some rabid fans desire his earlier work.
One auction record doesn't mean much, of course. Many of the artists whose work soared have gallery shows on now, indicating either that respect for their work, and demand for it, is picking up-or that their dealers had more motive than usual to support their prices.
A Bend in Her River, by Wangechi Mutu (born 1972), brought $92,500 at auction. It was at the low end of the presale estimate, but the piece is only two years old. The Kenyan artist, who works in Brooklyn, opened her first solo show last week at Barbara Gladstone Gallery, known for representing artists such as Matthew Barney and Richard Prince.
Rob Pruitt's God Says Nothing (1999) sold for $9,375, more than double its estimate. Mr. Pruitt had a show earlier this fall at Gavin Brown's Enterprise and his performance piece, The Rob Pruitt Second Annual Art Awards, will be at the Solomon R. Guggenheim Museum Dec. 9. The fund-raiser that pokes fun at award shows while simultaneously being one was filled beyond capacity last year.
Japanese sculptor Yoshitomo Nara's The Little Pilgrim (2002) zoomed to $52,500, four times its estimate, perhaps on the strength of his current exhibition at the Asia Society and his outdoor sculptures displayed on Park Avenue earlier this fall.
Interestingly, many of the artists whose works sold above expectations at Phillips and at other auction houses are from California-Ed Ruscha, David Hockney, David Park. Mr. Hockney's Beach House by Day, for example, sold for $818,500, double its estimate.
American Culture
An international study of culture and economies ranks the U.S. first in "cultural capital."
The study will be presented Thursday at a conference in Florence that features Philippe de Montebello, former director of the Metropolitan Museum of Art.
In a 10-month study, the European House-Ambrosetti, a Italian consulting group, ranked seven nations on such measures as museum attendance (U.S. ranked third in the world) and the number of university students per 100 people (the U.S. ranked first with 5.8). There was also a "media" measure that included how many music compact discs are sold and how many movie tickets sold. Where the U.S. lost points: adult education and the number of newspaper copies printed per person (Japan was first). Plus, there's the arguable definition of culture: Twenty-six percent of Americans defined an art gallery as culture, but 34 percent cited food and wine. Nonetheless, in total capital, America took first place before the U.K., France and Italy.
That's flattering, particularly since European studies of culture have tended to rate America a backwater. But what's interesting is the study's economic conclusions. Judging cultural spending against a nation's overall economy, the researchers concluded that a country can achieve a 2.5-euro return for every euro spent on culture.
Some things were universal. People surveyed worldwide gave the same reasons for skipping cultural activities: high prices and crowds.
Larry Goes Hollywood?
Is New York going to lose Larry Gagosian, much like we lost Jeffrey Deitch? Mr. Gagosian (who is from L.A.) bought Gary Cooper's former $15.5 million Bel Air mansion in August. And, according to Los Angeles Museum of Contemporary Art chief curator Paul Schimmel, the dealer is putting together a major art collection in California and recently told Mr. Schimmel, "I don't think Los Angeles knows how important that is to me. … Los Angeles is still my home." According to the curator, who spoke on a recent panel with artist Jeff Koons, Mr. Gagosian is spending more time in Los Angeles, and the museum is campaigning to get his collection. (Meanwhile, Mr. Deitch recently purchased Cary Grant's old house in Los Feliz, and a tour of it by the museum director is now on YouTube.)
The silver-haired fox declined to comment.
Sparkle Plenty
A pink diamond weighing 24 carats sold for $46.2 million at auction in Geneva Monday. The buyer was jeweler Laurence Graff (also a noted art collector), who announced he was renaming the jewel "The Graff Pink."
Sotheby's had given the gem something of the hard sell, dubbing it, before Mr. Graff had his turn, "an exceptionally rare and truly magnificent fancy intense pink diamond of the purest, vibrant hue." The hype worked: The sale had the highest total of any jewelry auction ever, $105.1 million.