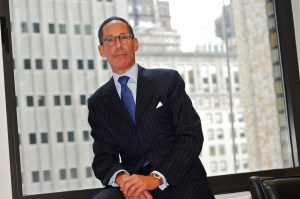 Situated front and center on the desk of Robert Emden are several thick and yellowing stacks of index cards, each held together by old rubber bands.
Collected since 1972, when Mr. Emden took his first commercial real estate job with Edward S. Gordon, the cards first grew into mounds, then hills and, now, mountains, each of them listing a broker or client or other acquaintance he's met over the decades. These days, the mountains together tower thousands of cards high.
"It's just the way that I learned and the way I continue–and I'll never change it until the day I finally retire," said Mr. Emden, who inherited the tactic from his mentor, the late Edward Gordon, as well as a habit for letter writing. "The card system is an old-fashioned thing I've incorporated into this current era."
In an era held hostage by technology, the wrinkled three-by-five cards are but one example of the vintage tactics the 63-year-old real estate vet still swears by. But computer savvy or not, Mr. Emden, known to friends as "Bobby," continues to rank among the financial services, hedge fund and investment banking industry's most highly trusted brokers, even whilst remaining stubbornly old-fashioned.
Indeed, at a time when some brokers might consider easing into retirement, Mr. Emden, his 29-year-old son David Emden and colleague Stephen Gordon chose, instead, to vacate their perches at PBS Real Estate in March and move their team to Newmark Knight Frank, where the threesome–or at least the senior Mr. Emden–intends to stay.
"As you might expect, I was talking to other firms who wanted us," Mr. Emden said. "We bring a brand, and I think my name is synonymous with that. And there were some people here that I wanted to be associated with, who I felt could strengthen the brand, and vice versa–and I think it's worked."
To be sure, the team, which is set to expand by one later this year, is on the cusp of inking its third transaction at Newmark while also collaborating on what Mr. Emden cautiously described as "five or six" deals with the firm's retail, sales and capital-markets departments. Although details were scarce, the renewal deal, he said, is with a boutique-size financial-services firm for about 10,000 feet.
Meanwhile, Mr. Emden and his team also recently leased space on behalf of four other financial services tenants at 777 Third Avenue, the commercial office tower previously branded as the Grey Advertising building. It was there that the trio leased a portion of the 400,000 square feet left vacant when the respected ad agency migrated to Lower Manhattan earlier this year.
It was last autumn, however, that Mr. Emden's team inked their transaction with Russell Investments, the famed Washington-based financial-services firm best known for the Russell 2000 Index. Previously located inside 590 Madison Avenue, where it had leased one full 25,000-square-foot floors, the firm subleased 32,000-square-feet of space from MetLife at 1095 Avenue of the Americas last fall, Mr. Emden said.
"As that firm has steadily evolved, so have their space standards," said Mr. Gordon, 34, who is not related to Mr. Emden's mentor. "So what they were able to do, given some of the clauses in the Madison Avenue lease, was terminate their lease, relocate to their Sixth Avenue space, and, by increasing their floor area by about 30 percent, they were able to increase the maximum density by about 60 percent. It worked well."
MR. EMDEN WAS born and raised in the small town of Woodmere, Long Island, where he lingered for 17 years before heading off to college in Manhattan.
Before he graduated with a bachelor's in real estate from Adelphi University, Mr. Emden noted as a child the experiences of his father, Harry, and uncle, Edward Levitt, both of whom dabbled in small property deals in Harlem and the Bronx. In the late 1960s, he said, he also worked for his late older brother at his residential real estate company, Garem Realty.
"I got the taste of what it was like to be an agent," said Mr. Emden, the brother of Colliers International broker James Emden. "And that all predates when I graduated, working nine months full time as an apartment agent over on the Upper East Side. And I didn't like it. I didn't like the residential side."
After being introduced to Edward Gordon through an acquaintance, Mr. Emden accepted a position with Mr. Gordon's eponymously named new firm and almost immediately took to commercial real estate like a natural. Among his earliest assignments as one of the firm's very first hires was a big leasing task for an office building at 450 Park Avenue, where the newly christened broker did his part to lease space to, among others, the well-known law firm Morris & McVeigh.
"He wore the hat, smoked the cigar and he was very impressionable to me," Mr. Emden said of Gordon. "And I said, 'This guy looks a lot like New York, he looks like he could sell New York and I think he has sold me.' It was just a gut reaction."
Eventually a stockholder at the firm, Mr. Emden stayed with Gordon through several mergers, until he left, 25 years later, for a job at Grubb & Ellis, where he stayed for seven years. From there, he jumped to create the brokerage component of a corporate services firm called United Systems Integrators, where both his son and Mr. Gordon joined the fold. Afterward, PBS Real Estate was their next stop.
"We've been together eight years and you know what amazes me, though, is just how often we come across a client who Bobby has worked with for 25 years," said his colleague Mr. Gordon. "It's a valued relationship and, oftentimes, they're part of the fabric of that history, and through their own prism they bring up something new or a thing that Bobby never mentioned."
Asked, once again, about his decision to move the team to Newmark after so many formidable years with various brokerages, Mr. Emden suggest that this may, indeed, mark the end of his long and prosperous career path.
"This is probably going to be where I retire," said Mr. Emden. "The same can be said for a lot of the guys here now."
jsederstrom@observer.com