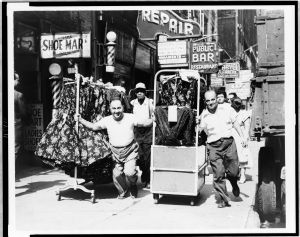 During the boom, it looked as though the city's storied Garment District would go the way of Radio Row and Ladies' Mile. (There's a good reason you probably haven't heard of them.)
Once home to the most famous names in American fashion and an equal number of workaday brands, the district has dwindled in recent decades, due largely to outsourcing and consolidation. By some measures, this specialized neighborhood just south of Times Square has shrunk by 90 percent, if not more. A few years ago, the city was working on a plan to consolidate the fashion industry into one building. Garmentos agreed, but thought it was unsuitably small at the same time. The plan has since come unwound, though real estate interest in the neighborhood has also slackened during the downturn.
Earlier this year, the Design Trust tried to come up with a solution through its Made in Midtown campaign, though nothing has yet materialized.
Yet were the city to do away with the special zoning instituted in 1987, which designated half the district expressly for fashion design and production, the Garment District would likely vanish. At least that is the (rightful) impression of a Journal article, which notes that vacancies doubled from 2007 to 2009, through a combination rising rents followed by the recession's heavy toll on the industry, to 9.48 percent, and rent fell by a fifth, to $40.88. On the one hand that is bad, on the other, it points to just how high demand actually was, as that is a better vacancy rate than in most of the city's office or retail markets.
But the real threat is from outside, not within:
The Hudson Yards rezoning of 2005, which included a pocket of the Garment District, gave the city a taste of what might happen if the entire district was rezoned.

Nearly two dozen hotels including a Sheraton, Holiday Inn and Westin, went up in the district, tripling the number of hotel rooms. Emerald Green, a new 24-story luxury condominium, came to market and the landlord, Glenwood Management, is planning another 199-unit rental building nearby.

But others say there are risks in opening up the area to those not connected to the Garment industry. "We don't want the mini-Wal-Marts and Starbucks that have invaded our city to take over here," says Nanette Lepore, a fashion designer who has worked in the Garment District since the early 1990s and led a number of rallies to maintain the area as a center for manufacturing and design.
Worse comes to worst, at least we'll always have China and Italy to fill our stores.
mchaban@observer.com