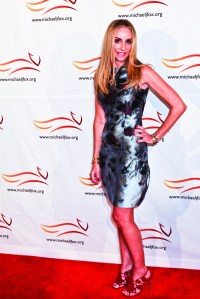 Most glamorous fund-raisers follow a familiar formula: They take place in a swanky setting, serve cataracts of Champagne, invite plenty of celebrity guests to spy on and auction off cool prizes.
The 10th New York City gala fund-raiser for the Michael J. Fox Foundation, "A Funny Thing Happened on the Way to Cure Parkinson's," certainly ticked all those boxes, but had the added bonus of rocking the house with great music and comedy.
But then, the Michael J. Fox Foundation takes a different approach than other Parkinson's charities. It is committed to getting money into the hands of research physicians and then pushing their discoveries out of the lab and onto pharmacy shelves. Full disclosure: My father has suffered from Parkinson's for more than 20 years, and so I definitely have a stake in a cure for the disease.
Still, it was a great party. The evening began in the Grand Ballroom of the Waldorf Astoria, whose curved white belle époque balconies provided an impressive backdrop for the evening's entertainment. Since the theme of the night was reggae, the tables were loaded with color, right down to the starters of spinach salad and banana chips. High rollers were tempted to get in touch with their inner child by bidding on prizes with glow sticks. It worked–during the auction, the room appeared to be crowded with florescent fireflies (all told, the foundation raised more than $4.7 million).
"We wanted this to be a celebration and not a sob story," founder Michael J. Fox told The Observer. "We loved the idea of reggae because it's fun. Tracy and I also spend time down in Parrot Cay so that might have had something to do with it."
The crowd was moved when Muhammad Ali and his wife, Lonnie, took the stage to receive their share of applause. Although supported by his wife, the boxing superstar was able to walk away from the podium with an athletic grace that belied his condition.
Ryan Reynolds, whose father suffers from PD, didn't appear in person but made a video offering two auction prizes. Details editor Dan Peres and his wife, actress Sarah Wynter were out in support of the event, as were Evelyn Lauder and retired NBA star and early-onset PD sufferer Brian Grant.
At the end of the night, instead of leaping toward the door as soon as the chocolate torte was cleared, guests drifted to the stage to hear the Roots (Jimmy Fallon's late-night band) begin their set. Guests were never more than five feet from the musicians the whole night.
Once they had everyone swaying, the band called up the first musical guest of the night: reggae legend Winston Rodney, better known as "Burning Spear." Burning Spear sang some classic reggae hits, but it was his skill on the bongos the crowd was waiting for. His taut fingers tapped away with the precision of a tennis player constantly hitting the sweet spot.
After a couple of songs, he was joined onstage by UB40 frontman Ali Campbell, who sang "Red, Red Wine," sounding exactly as he had on my cassette tape 20 years ago. By now, the crowd was well warmed up and eager for the next guest to appear–reclusive singer Lauryn Hill. As she has stayed out of the limelight for so long, it wasn't clear if she still had the chops that made her a household name more than 10 years ago.
All doubts were cast aside as she strode onto the stage, radiating power and presence like a warrior returning from battle. She's slim and almost supernaturally beautiful; it's hard to believe, with her Artemis-like figure, that she's the mother of five children, with Bob Marley's fourth son, Rohan. Clad in over-the-thigh, shining black boots and a frock coat, the singer grasped the microphone and said to the hungry crowd, "Let's have a little Bob Marley."
As her soaring voice belted out the familiar tunes, Roots band members "Captain" Kirk Douglas (guitar) and Damon "Tuba Gooding Jr" Bryson (sousaphone) were so overcome by Ms. Hill's presence that they started to jump up and down while simultaneously playing their instruments (which is no mean feat if you are a sousaphonist).
The finale of the evening included Michael J. Fox jumping onstage for a final jam session. The party lasted until after midnight and no one looked at their watch.