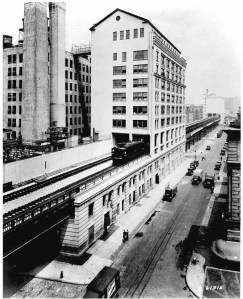 Like many of New York's grand old industrial buildings, the Bell Laboratories on Bethune Street in the West Village went quiet in the 1960s. But instead of being turned into just another loft building, the huge 13-building complex was transformed into the nation's oldest and still largest artist cooperative. With help from the J.M. Kaplan fund and the National Endowment for the Arts, famed New York architect Richard Meier was brought in to transform the spaces into what became the prototype for loft living in the city.
The complex has been home to such luminaries as Diane Arbus, Merce Cunningham, Moses Gunn, Gil Evans and Vin Diesel–he was born there, not invited in on his merits as an artist. Now the public is invited to stalk the high-ceilinged halls for the first time.
To celebrate Westbeth's 40th anniversary, the Greenwich Village Society for Historic Preservation is hosting tours from 1 to 5 this Sunday. Proceeds from tickets will go to fund the preservation organization while dozens of artists will be selling their art from the studios visitors can tour. The cooperative is always in need of money for maintenance, so the fundraiser should help they keep going for decades to come.
The building was recently listed to the National Register of Historic Places, and while the Landmarks Preservation Commission has yet to make it a city landmark, the Society hopes the anniversary will help it with a renewed push. The complex is so rich in history and architecture, it is more than worthy of preservation. Not only is there the long tradition of industry and arts and the architecture associated with it, but as one of the finest examples of Richard Meier's early work, preservation remains an important task.
Tickets are $75 online, $85 day of. Tours begin at 155 Bank Street between Washington and West streets.