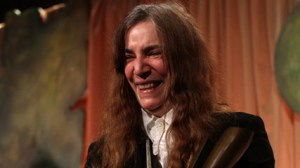 Last night Tina Brown threw a party at Cipriani Wall Street to celebrate winners of the National Book Awards. Well, it was officially hosted by the Brown-edited Daily Beast, but given that all of New York is still buzzing about Tina's more recently acquired title, there was no question as to whom the belle of the ball was. The timing of the Newsweek merger was such that the entire after party–and perhaps the awards ceremony as well–served as a coming-out soirée for Tina Brown's newest role as editrix-in-chief. Tom Wolfe, accepting his Medal for Distinguished Contributions to American Letters, called her the "Queen of all Media" and the crowd went wild.
Though before the late-night fun could be had book awards had to be handed out. It was something of a surprise, though a welcome one, that the jury awarded the non-fiction prize to punk poetess Patti Smith, for her memoir Just Kids.
"The paper, the font, the cloth–please don't abandon the book," she said in her remarks, after the applause forced tears from the rocker-writer. "There is nothing more beautiful in our material world than the book."
The Observer chatted up Smith during the post-awards, pre-Tina bash lull. She was wearing black jeans, a refreshing break from all the stuffy tuxes milling around.
"I'm indescribably happy," she told us.
Then we got to talking about the Chelsea Hotel, where much of Just Kids is set, in light of the uncertainy about its future.
"The Chelsea Hotel is a wonderful place–I just hope it can survive," she sighed. "My prayers are geared toward it."
Is the medal heavy, we asked?
"Yes, it's very heavy!" Patti Smith confirmed.
But the weight of the award didn't stop fiction winner Jaimy Gordon from letting it whip back and forth as she got down on the dance floor. Too bad Tina Brown has to spend all her time reviving a money-hemorrhaging magazine–she throws a pretty good party!