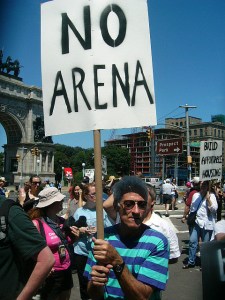 Maybe there is hope for those opposed to Brooklyn's Atlantic Yards project after all. Or at the very least, some vindication.
Yesterday, State Supreme Court Justice Marcy Friedman ruled that the Empire State Development Corporation erred in producing a modified timetable for the project last year, when it finally won state approval, and thus violated the state's environmental review process.
The courts have criticized the project before, but none have ever ruled against it, arguing that it is the legislature and its constitutionally mandated authorities, such as the ESDC, whose responsibility is to determine right from wrong when it comes to eminent domain and the like. This time, though, Friedman found the fecklessness to be actionable:
The Development Agreement has cast a completely different light on the Project build date. Its 25 year outside substantial completion date for Phase II and its disparate enforcement provisions for failure to meet Phase I and II deadlines, read together with the renegotiated MTA Agreement giving FCRC until 2030 to complete acquisition of the air rights necessary to construct 6 of the 11 Phase II buildings, raise a substantial question as to whether ESDC's continuing use of the 10 year build-out has a rational basis.
Plaintiff and Atlantic Yards chief adversary Develop Don't Destroy Brooklyn was thrilled with the news, but others were skeptical it would matter much, except for posterity. "Nothing was announced today that's going to impact construction," Jeff Linton, a spokesman for Forest City Enterprises, told Businessweek.
Yet skeptic of skeptics Norman Oder believes that the requirement for ESDC to issue new findings could impact the project's later phases, which are already struggling, and he even points out today that, at its Investor Day, Forest City showed marked caution toward the ruling.