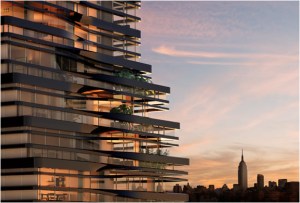 Last week came the news that a prominent plot on Broadway, one of the last great development sites left in Tribeca, was to be auctioned off. Accompanying the sale was a new design for 5 Franklin Place that replaced a well-regarded one by Dutch starchitect Ben Van Berkel.
Billy Procida, the head of Procida Advisors, which was running the auction, told Crain's that the auction has been called off because a foreign buyer has swooped in to pick up 5 Franklin for "a number that is satisfactory and fair." Procida said he had a list of 100
firms interested in the property. If this were true, why not hold tight for the ensuing bidding war? Perhaps there would not have been one. Maybe this is another bad sign of the real estate market's continued uneasiness.
The bigger question is not what was paid but what will get built? Will it be Van Berkel's loopy condos, Montroy Andersen DeMarco's more staid offering or something complete different and exciting? The Observer still has its fingers crossed for the third option, but given the quick sale of the property, a quicky, easy and, worst of all, cheap solution just might be the most likely.