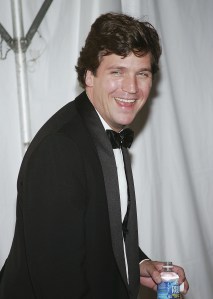 A series of insane emails that purportedly came from Keith Olbermann were actually the work of Tucker Carlson's Conservative news site, The Daily Caller.
The fake correspondence was published on the Philadelphia gossip site Phawker.com, which has since published a correction. The email exchange began when Philadelphia Daily News reporter Stu Bykofsky contacted the Olbermann for an article he was writing about the suspension controversy. Olbermann was temporarily suspended by Griffin on Friday after an article in Politico revealed that he gave money to three Democrats during the last election in violation of NBC ethics policies.
Bykofsky emailed the address keith@keitholbermann.com and received a series of responses eviscerating his article and berating MSNBC management.
"I could have Phil Griffin fired tomorrow if I felt like it, trust me. And if he keeps yapping about me in public, I may," read one of the responses to Bykofsky.
The thing is, KeithOlbermann.com is actually owned by The Daily Caller. A visit to the site shows an archive of Daily Caller posts about Olbermann. Carlson purchased Keitholbermann.com in July from a Virginia man named Jason Drake. Drake told The Observer on Monday that Carlson bought the site from him for $400.
At the time of the purchase, Carlson wrote a blog post that explained his plans for KeithOlbermann.com.
"We plan to make The Daily Caller the one-stop online shop for Keith Olbermann commentary … We will be THE Keith Olbermann superstore," Carlson wrote.
Bykofsky told The Observer that he "believed the emails to be coming from Olbermann."
"I was fooled, but I was fooled while I honestly tried to reach Keith Olbermann," Bykofsky said.
Carlson hosted the show "Tucker" on MSNBC from 2005 until 2008 when it was cancelled due to low ratings. He launched the Daily Caller in January. Carlson and Phil Griffin have not responded to requests for comment from The Observer.