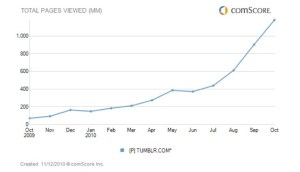 Tumblr has just raised a monster funding round, reported to be in the area of $25 to 30 million at a valuation of $135 million.
Dan Primack over at Fortune put a figure on this new round, which had been reported, sans financial details, by Business Insider last week.
BI hinted that Sequoia Capital was the lead on this round. Primack doesn't explicitly confirm, adding only that it was a highly competitive investment with as many as ten firms getting in on the deal.
Tumblr doesn't have a revenue stream yet (what self respecting startup does?), but it can claim a staggering 1,500% page view growth since this time last year.
Hopefully this round will be put to work building out premium features, subcription models, business and ad partnerships, since it seems like Karp and Co. have got the whole "user experience" thing pretty much locked down.
Previously:
Tumblr Plans to Double Its Staff
John Mayer, Katy Perry Agree: Tumblr Crushing Posterous
Check Out: Uh Oh – Even NBC's The Office Thinks We're in a Tech Bubble
bpopper [at] observer.com | @benpopper